Ryanair cabin crew strike sees several cancelations and delays in Barcelona airport
As of 7 pm, 9 flights have been canceled connecting with Catalan airports, while there have been over 50 delays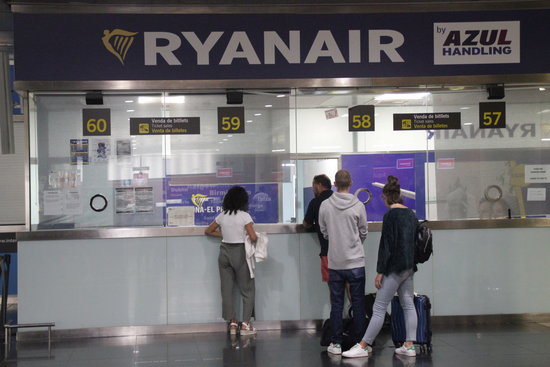 Ryanair cabin crew are again striking on Monday, calling for the company to provide better conditions that they claim should already be in place due to previous court rulings.
As of 9 pm, nine flights connecting with Barcelona airport have been called off, the Unión Sindical Obrera (USO) trade union said.
Further cancellations and delays are expected in Catalonia as industrial action over ongoing disputes is set to take place every day until July 28, except for weekend days.
Catalan airports saw 51 delays as of 7 pm on Monday; 19 of which were departures from Barcelona, and 24 arrivals into the city. Girona, the other Catalan airport from which Ryanair operates, has seen 4 departures and 4 arrivals delayed.
In the past week, numerous flights connecting Barcelona to cities across the continent such as London, Milan, Rome, Brussels, and Palma de Mallorca have been canceled, raising the prospect of travel chaos as the summer tourist season returns to Catalonia.
The USO trade union also denounced that the Irish airline Ryanair are firing cabin crew staff members who are striking. According to the union, four workers in Barcelona were sacked, while one more in Girona, and four more in other parts of Spain.
The strike is set to last until July 28 and has been called for ten airports in Spain where the low-cost carrier operates, including Barcelona and Girona.
Scores of flights were called off across Catalonia and the continent since the strike started in late June. Workers are demanding a new labor agreement in accordance with Spanish law.
Next affected dates
As airlines and airports struggle with staff shortages following the pandemic, chaos at airports across Europe continues.
Meanwhile, travelers flying with EasyJet have also experienced abrupt trip changes. Here's what to expect in the following days.
Ryanair: July 26, 27 and 28, disruptions at the ten Spanish bases (Madrid, Barcelona, ​​Girona, Malaga, Seville, Valencia, Alicante, Santiago de Compostela, Palma and Ibiza).
EasyJet: July 29, 30 and 31, at the three Spanish bases (Malaga, Barcelona and Palma).
Dispute
The USO and Sitcpla unions argue that Ryanair employees are treated like "third-class workers" and call on the company to comply with "basic labor rights and court rulings."
According to them, the low-cost airline should sit down to negotiate "a collective agreement and decent working conditions for all staff."
The union considers the measure of silencing the protest as they "have not obeyed the airline's illegal rules," a statement from the USO union read.
They also claim that many of the conditions agreed upon are actually based on court rulings won against the company, such as the salary increase of €1,000 in 2022 and €800 for 2023, as well as the fixed schedule of 5 days' work and three days' rest.