Networking event 'Hola Barcelona! Cocktail' welcomes international professionals
Cocktails, food trucks, live performances, and conferences are planned for the afternoon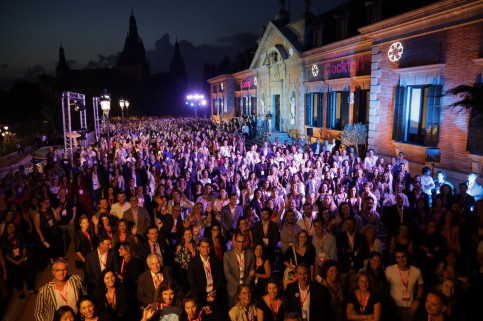 The annual gathering of Barcelona-based international professionals is taking place on September 15 in Montjuïc's palace, Paluaet Albeniz, and registration for the free event is now open.
The 9th edition returns in full swing this September without any pandemic restrictions compared to previous years. The day will feature a cocktail-networking session, food trucks, live performances, and a space for internationals to share their stories and tips about settling in Catalonia.
According to this year's organizers, Global Barcelona and the City Council, Hola Barcelona! Cocktail is an excellent opportunity to meet and connect with the international talent working in Barcelona.
Previous editions have gathered more than 1,000 attendees, 70% of whom are managers, researchers, entrepreneurs, investors, or creatives that have come to the city to develop their careers.
The event, completely free of charge, starts at 6:30 pm. Anybody attending must register here in advance
The event organizer, Global Barcelona, is an association made up of more than 880 professionals and 227 of the city's leading companies, research centers, entrepreneurs, business schools, universities, and cultural institutions. The company's mission is "to make Barcelona one of the best places in the world for talent and economic activity."
Networking this Fall
In addition to Hola Barcelona! Cocktail, another highly anticipated networking event taking place this Autumn is Barcelona International Community Day 2022
Similar to Hola Barcelona! Cocktail, this other event aims to offer networking opportunities or helpful guidance to internationals.
The Barcelona International Community Day 2022 will feature around 50 activities and 80 exhibiting companies and entities offering services to help internationals navigate life in the city better, including Catalan News.
Most of the activities organized are in English and touch on various topics of interest such as finding one's feet upon arrival, working and doing business, networking, and enjoying Barcelona. Registration is also free here