High speed train connection 'guarantees' future of Girona airport
Link to Barcelona will be "positive" for both facilities, says director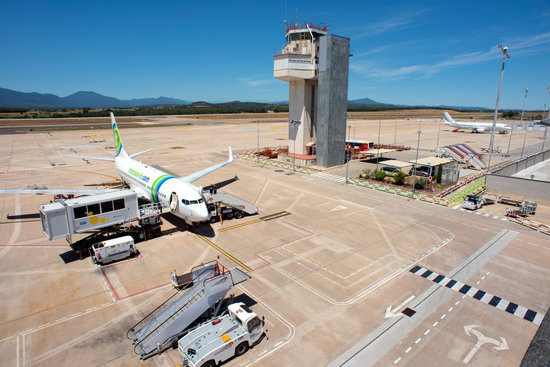 The director of Girona airport, in northern Catalonia, that the planned high speed train connection (AVE) with Barcelona airport will be "positive" for both facilities.
In an interview with the Catalan News Agency (ACN), Lluís Sala, stated that the construction of the AVE link will help form one of the "best airport partnerships in Europe" as well as "guaranteeing the future" of the airport in Girona, the second biggest in Catalonia.
He also said that, because of the connection, more passengers landing at Girona will head on to Barcelona, thus reducing the seasonality of the airport. "We have a very interesting offer within the market of short and medium distance routes," Salas said.
The airport will maintain the "change in trend" that took place in 2017, when the facility handled two million passengers, Salas explained. For the director, who has been at the helm since 2009, the high speed link with Barcelona airport is key for the future. The planned AVE connection puts in motion plans that Salas had been developing for years.
"In our environment, its normal to see airport partnerships that compliment each other and offer a much more interesting product for companies," he explained. He used London as an example, as it offers six different airports for airlines (Heathrow, Gatwick, Luton, City, Stansted, and Southend.)
The fourth runway
The connection between both airports does not mean Girona should be termed a fourth runway for Barcelona airport, the director believes. "I don't like this concept," he said.
In London, nobody "speaks of a fourth or fifth runway," he stated, affirming his belief that this should not be the case for Girona airport.
"We talk about different airports, different products that extend the range of airport offerings, allowing them to not miss out on any opportunity," the director said.
New companies
Salas also believes that its time to start talking about new companies using the facility. "We are convinced that there will be companies that decide to fly with us, and others that will continue to use Barcelona," he said.
Currently, it is mostly used by Ryanair, but in the Summer other companies such as Jet2 make use of the facility.
Proximity
The high speed connection will be built 500 metres from Girona airport. It will be funded by the Spanish government with an investment of 55 million euros.
It is part of a broader investment of 464 million euros in the development of the airport, which has been in operation for around 50 years. Plans are also in the pipeline for the expansion of the passenger terminal.