Farmers' markets begin to reopen with Covid-19 safety measures
Mercabarna food wholesalers to carry out 9,000 antibody tests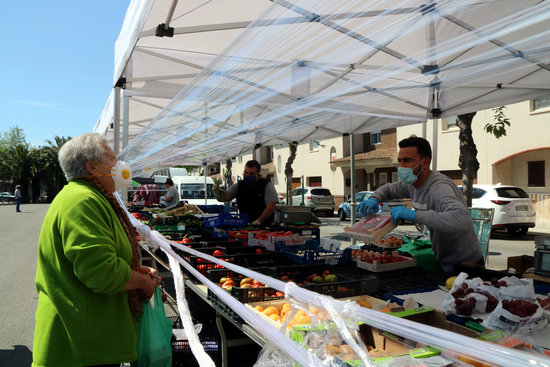 After remaining closed for over a month as a result of the ongoing public health crisis, some farmers' markets throughout Catalonia are beginning to reopen, but this time in following with the recommended Covid-19 health and safety measures.
One of such markets is the small neighborhood market of Sant Salvador, in the southern Catalan city of Tarragona. Vendors, who now wear face masks and gloves, have placed plastic film over the items on sale to prevent shoppers from touching them. Shoppers, meanwhile, must wait their turn before approaching the stalls and must keep their distance from others.
Clothing stalls, like at all other markets of its kind, are now gone, with the only thing on sale for the moment being fruit, vegetables, and other food products as well as hygiene products.
In other cities and towns, like Vic, markets have not yet opened but will be doing so in the coming days.
Antibody tests at Mercabarna
Meanwhile, Mercabarna food wholesalers announced on Friday that they would be carrying out 9,000 Covid-19 antibody tests on both workers and clients.
Joan Llonch, who is the president of the Mercabarna Dealers' Association, spoke to the Catalan News Agency and confirmed they have already asked different labs for quotes.
"We want to get ahead of whatever could come," Llonch claimed, adding that they hope to go ahead with said testing next week if they are granted the go-ahead by health authorities.