Companies continue to cancel participation in MWC as organizers set to meet
Vodafone, Nokia, BT, and Deutsche Telekom announce their withdrawal from fair on Wednesday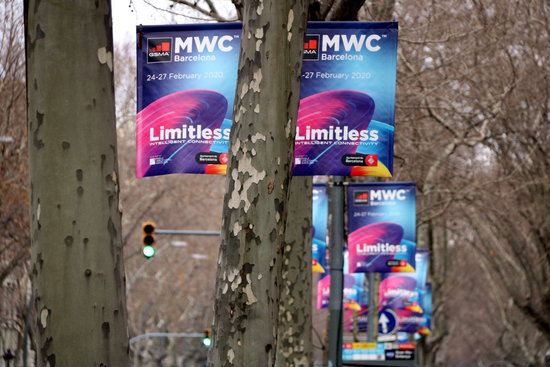 Wednesday saw more companies announce they would be pulling out of the 2020 Mobile World Congress due to concerns regarding the spread of the coronavirus, adding to those already reported over the past few days.
The ongoing announcements have prompted organizers to hold an emergency meeting on Wednesday to discuss the fair's future, with some experts arguing that it need not be canceled and others claiming that it should be so as to prevent the spread of the disease.
On Wednesday morning Finnish mobile company Nokia joined the likes of Facebook, Sony, Cisco, Intel and Amazon in deciding not to attend this year's edition of the fair.
Nokia's press release claims that "after a full assessment of the risks related to a fast-moving situation" it will not be participating in MWC "to safeguard the health and well-being of employees and others while also recognizing responsibility to the industry and customers."
International telecommunications giant Vodafone canceled their participation in the afternoon.
Companies that also decided against attending the fair on Wednesday include BT, Deutsche Telekom, and STMicroelectronics, with BT calling it "the most responsible decision."
In total, more than thirty companies have said they will not participate in the event: LG, Ericsson, Nvidia, NTT Docomo, Amazon, Umidigi, Sony, Ulefone, Gigaset, Intel, Vivo, Amdocs, Coomscope, Panorama Software, Dali Wireless, Interdigital, Iconectiv, Facebook, Cisco, Accedian, Viavi, F5, Telnet, McAfee, Ciena, AT&T, Rakuten, AppsFlyer, Royolo, Sprint, Nokia, STMicroelectronics, Vodafone, British Telecom and Deutsche Telekom.
Bookings down for ride-sharing companies
The list of companies pulling out of the MWC has seen the cancellation of 33% of reservations for car hire services.
The head of the Unauto union in Catalonia told Catalan News that on Monday cancellations were at 6%, they rose to 12% on Tuesday and on Wednesday reached a third of total bookings.
Josep Maria Goñi confirmed that they had to freeze the contracts of 1,500 additional drivers who had been taken on to cover demand in the days leading up to and during the trade fair.
Goñi suggested that one way to salvage the situation for businesses like hotels, taxis, and restaurants would be to postpone the congress for several months.
Catalan government: "no health reason" to cancel event
Meanwhile, Catalan authorities have continued to insist that the 2020 MWC does not need to be canceled as a result of the virus which is yet to be diagnosed in Catalonia.
According to health minister Alba Vergés, "there is no reason to suspend any event being held in Barcelona or Catalonia."
Former FC Barcelona president and hotel entrepreneur Joan Gaspart also defended the fair taking place as usual, asking that companies, and Vodafone specifically, "reconsider their decision" to not participate in the 2020 Mobile World Congress.