Catalonia boasts 1,300 start-ups employing over 13,000 people
New figures show that most emerging firms are related to technology with a quarter of all employees coming from abroad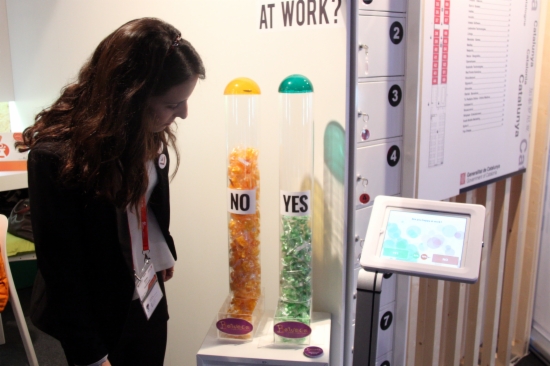 Catalonia is quickly becoming something of a major hub for start-up companies. There are currently some 1,300 start-ups in the country, providing work to 13,820 people, according to figures from the Catalonia Trade and Investment agency (ACCIÓ in Catalan).
The figures were presented this week by business minister, Àngels Chacón, in the annual meeting for emerging companies known as 'The Hub Event'. "We are seeing an ecosystem that is beginning to mature, grow and establish itself," Chacón said.
Most start-ups are related to technology for the Industry 4.0 sector, which accounts for 17% of Catalonia's emerging firms. That is followed by the life sciences and mobile and software sectors, which account for 13% and 11% of start-ups, respectively.
"We are attracting international talent," says ACCIÓ
Also, a quarter of those employed by Catalan start-ups are foreigners. "We are attracting international talent," said ACCIÓ head, Joan Romero. Most of these employees are from western Europe (46%), South America (26%) and eastern Europe (9%), with Asia, Africa and the Middle East, and North America accounting for between 6% and 7% each.
The areas in which these foreign employees work are principally technology (27%), followed by sales (22%), management and strategy (20%) and operations (17%).
As for the founders of Catalan start-ups, some 15% are foreign, while some 38% have previously set up another business. The figures on start-ups in Catalonia presented by Chacón correspond to 2016.
Most funding from private investors
Funding is one of the biggest challenges for setting up a new firm, and three quarters of Catalan start-ups are financed by private investors. Of these, 21% received funding of over a million euros, with 5% receiving between 5 and 200 million euros. Yet most (45%) are based on private funding of less than 250,000 euros.
Barcelona is now the largest start-up hub in southern Europe, and comes 5th in the ranking for the whole of Europe, behind London, Berlin, Paris and Amsterdam, according to the 'Ranking of Europe's biggest startup hubs in 2017' by online publication, EU-Startups.
Meanwhile, the Catalan capital is the third most popular place among founders opening a start-up, according to the 'Startup Heatmap Europe 2018,' and it is the fourth city in Europe in terms of investment volume for start-ups, says venture capital firm, Atomico.
'The Hub Event,' which was held on Tuesday evening in Barcelona's World Trade Center, is an annual meeting of the Barcelona&Catalonia Startup Hub platform, aimed at the international promotion of the Catalan ecosystem and attracting investment.