Caixabank's profits go up 17% in 2018 to €1.98 bn
Rise attributed to strength of core business, while Banc Sabadell registers 54% fall in gains last year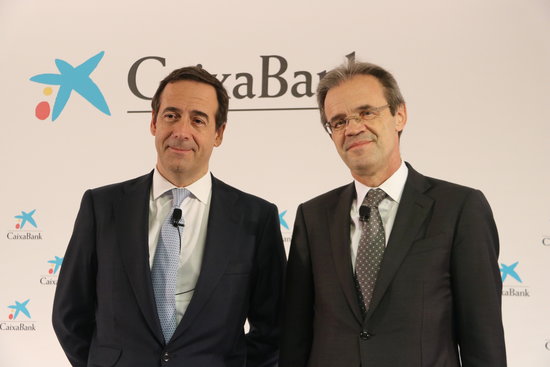 Catalonia's largest bank, Caixabank, made profits of 1.98 billion euros in 2018, a 17.8% rise over the previous year, the National Securities Market Commission (CNMV in Spanish) reported on Friday.
The financial agency attributes the rise to the strength of the bank's core revenue -derived from the firm's main business minus all expenses for its main activities- which reached 8.21 billion euros, a 4.2% rise, with total revenue amounting to 8.76 billion, a 6.6% rise.
The contribution from the BPI bank in Portugal, which is 100% owned by Caixabank, amounted to 262 million euros, compared with 104 million the year before. Meanwhile, Caixabank's net interest income went up to 4.9 billion euros, a 3.4% rise, and revenue from commission reached 2.58 billion euros, a 3.4% increase.
Plan to lay off 2,157 employees
Nevertheless, a few weeks ago, Caixabank announced a round of lay-offs that will affect 2,157 of its employees, as part of its Strategic Plan for the 2019-2021 period.
As talks with the unions continue, the planned lay-offs, which will affect 7.3% of all staff, will see the number of employees reduced in 1,913 branches and 244 from support services.
Among Caixabank's restructuring plans is reducing the number of its traditional branches from 793 to 700, with 100 offices dedicated to business banking.
Banc Sabadell's profits fall
As for Banc Sabadell, the CNMV says its profits of 328 million euros in 2018 represent a fall of 54.2%, due to the incorporation of the UK's TSB bank, cleaning its balance sheet, and extraordinary costs of 637 million euros. In 2017, Banc Sabadell made a profit of 717 million euros.
However, the bank's net interest income, a measure of earnings on loans minus deposit costs, went up to 3.68 billion euros in 2018, a 0.3% increase compared with the year before.
Both banks were among thousands of firms that moved their headquarters outside of Catalonia after the October 1 independence referendum, when the political tension between the Catalan and Spanish governments was at its height. Caixabank's HQ is now in Valencia, while Banc Sabadell's is in Alicante.