Barcelona airport passengers still low compared to pre-pandemic levels in September
Over 4.2 million passengers flew in or out of Catalan capital facility last month, 17% below 2019 levels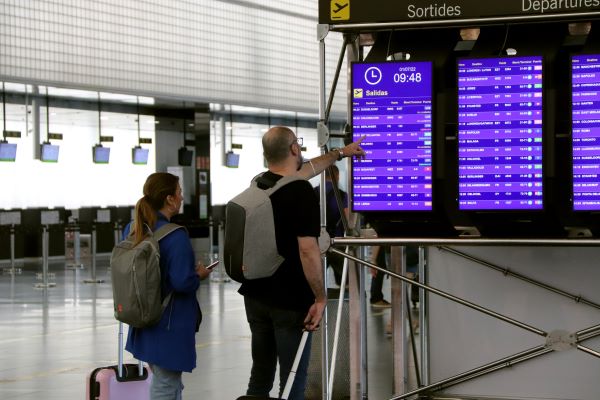 The number of passengers traveling to and from Catalan airports inched closer to pre-pandemic figures during September, according to figures released on Tuesday by Spain's airport authority, Aena.
El Prat airport registered around 4.2 million passengers last month, 17.6% below the figures it had in 2019, the last year before the outbreak of Covid-19.
Regarding operations in September, Barcelona airport registered 27,148 take-offs and landings, 15.5% less than three years ago.
Since January, El Prat has registered 30.8 million passengers. This figure shows a recovery of 75.9% in traffic before the pandemic.
Overall, El Prat Barcelona remains the second busiest airport in Spain by number of passengers and flights, falling behind Madrid Barajas with around 36.8 million passengers.
Reus and Girona
Since the beginning of the year, Reus aiport received 811,412 users, a recovery of 85.9% in traffic before the pandemic.
Between January and September, the airport saw 15,584 flights in and out, 8.9% more compared to the same months in 2019. Just in September alone, Reus airport saw 2,086 flights, 10% more than three years ago, and 148,341 passengers.
On the other hand, Girona airport had 193,035 passengers in the month of September, 25% shorter than pre-pandemic levels.
Last month, 2,189 landings and take-offs were carried out from the facility in northern Catalonia.
This figure is almost three times higher compared to last year's data when some covid measures were still in place.
Aena's statistics also show that for all of 2022 so far, the airport received more than a million passengers – 1,131,691.
United Airlines' new Barcelona route
The American United Airlines company announced on Wednesday a new summer route from Barcelona airport to Chicago O'Hare airport.
The route will be available from May 26, 2023 to September 28 and passengers will fly with Boeing 787-8 Dreamliner with a capacity of 243 passengers.
The airline will fly daily between both cities, adding an additional route to the US from the Catalan capital, as United Airlines already flies to Washington Dulles and New York.