Barcelona airport cleaners to strike during Mobile World Congress
Cleaning staff to down tools during world's largest mobile event to be held in Catalan capital from February 25 to 28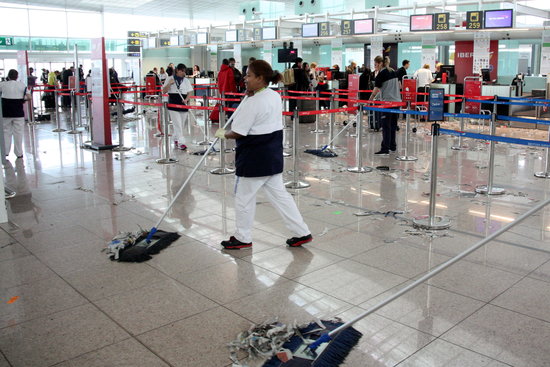 Employees providing cleaning services at Barcelona Airport have called a four-day strike to coincide with the Mobile World Congress (MWC), the world's largest trade fair for the mobile industry, which is held every year in the Catalan capital.
The strike by the cleaning staff has been called for February 25 to 28, according to the CCOO trade union and the government's labor ministry, with the MWC set to take place on the same four days.
Employees of Valoriza Facilities, of the SACYR group, which is charged with cleaning the airport's facilities, say the firm has not delivered on agreements on contracts, in particular conditions linked to permanent contracts.
After efforts at mediation between the employees and the firm broke down on Monday evening, the cleaning staff decided to go on strike.
The stoppage could have serious consequences for the airport and also for the MWC, as the trade fair is expected to attract more than 100,000 visitors, thousands of whom will come from more than 200 countries to attend the event.