800k festive poinsettias for Christmas – all locally grown
The traditionally red holiday plant often loses some color when imported from Almería in Spain or as far as Holland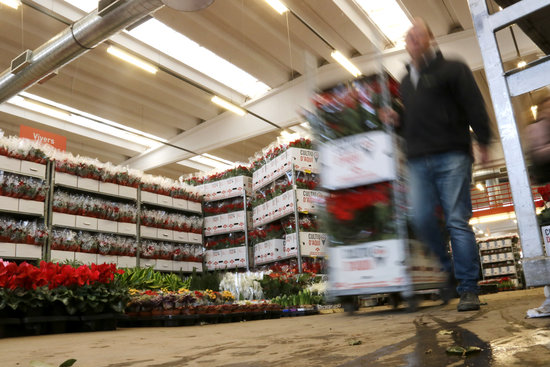 It's December, and it's time to bring out the vases filled with the festive, leafy, bright red Christmas plant – the poinsettia. And among the many you'll see leading up to the holidays, there's a good chance they've been grown locally.
In fact, the plants produced in Catalonia are set to total 800,000, according to data from the Flower and Ornamental Plant Market of Catalonia wholesaler. The rest (around 2 million will have been sold by the end of the season) often come from the south of Spain, in Almería, or as far as Holland.
Local growers suggest products from closeby
Growers, however, warned against the quality of imported plants. The biggest producer of the plant in Catalonia, Santiago Camacho, said in imported specimens there's "no color," while native to Catalonia, "the red is much more intense and it's a much stronger plant, because it's been made little by little." Camacho alone is responsible for 300,000 of the plants, grown in the Maresme.
So how to tell if the poinsettia you want comes from Catalonia? Last year, the Flower and Ornamental Plant Market of Catalonia began putting the label 'Cultivated Locally' on the appropriate plants. Although, according to Camacho, the difference is obvious: "Customers can truly tell the difference between the Catalan product, made 95% in the Maresme, and that which comes from elsewhere."
A long history of holidays
While its growth in Catalonia has been a success, the plant is actually indigenous to Mexico. It takes its name from Joel Roberts Poinsett, the first United States minister to Mexico, who introduced the plant to the US in 1825. Its association to Christmas began in its homeland in the 16th century.
The leaves are most commonly bright red, but can also be orange, green, cream, pink, white, or marbled. And while different colors are becoming more and more popular, data says that once again, a jolly red will be the star of this year's Christmas.