Obamas and Spielberg visit Moco Museum in Barcelona's old town
Former US president especially enjoyed Kehinde Wiley and Jean Michel Basquiat's work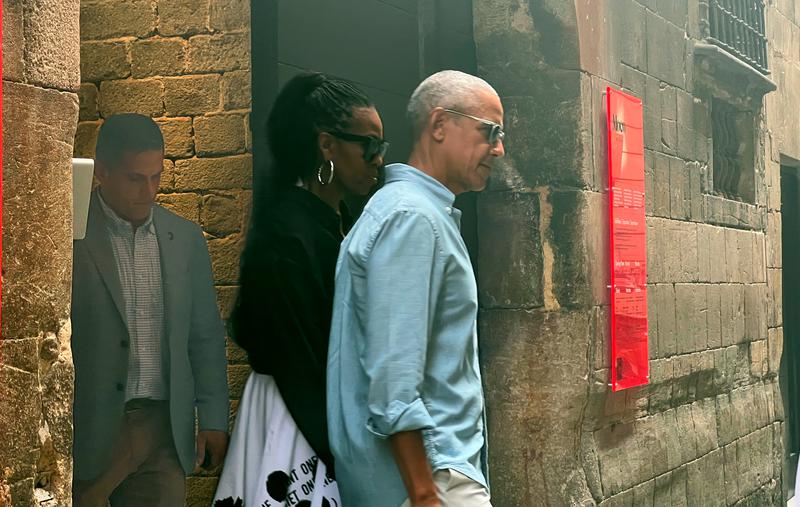 Barack and Michelle Obama have taken advantage of their trip to the Catalan capital, where they are expected to attend the Bruce Springsteen concert Friday evening, to take in some of the sights.
Around midday on Friday they were spotted in Barcelona's Born neighborhood where they visited the Moco Musuem of modern and contemporary art alongside filmmaker Steven Spielberg and his wife.
The Mossos d'Esquadra police closed off Carrer de Montcada street during the Obamas' visit, only allowing a group of journalists through.
The Obamas did not speak to the press, but museum owners Lionel and Kim Logchies explained that the former president particularly enjoyed the work of New York artists Kehinde Wiley and the late Jean-Michel Basquiat.
"They really love Barcelona," museum co-owner Kim Logchies said. "They had a really good meal at our favorite restaurant last night as well."
The Obamas had dinner at chef Rafa Zafra's Amar Barcelona restaurant alongside Spielberg and his wife and Bruce Springsteen on Thursday night.
Two Springsteen concerts in Barcelona
Friday is the first of the Boss' two concerts in Barcelona, the only ones he will be playing in Spain. It is also his first stop on the European leg of his tour. Springsteen will be accompanied by The E Street Band.
On Monday there were already dozens of fans lining up outside the Olympic Stadium in the hopes of securing a good spot to view the show.
The last time Springsteen came to the Catalan capital, he performed at Camp Nou, the FC Barcelona football stadium. The American singer will now be playing at what will be the team's temporary field as Camp Nou undergoes renovation works.