Barça president rejects stepping down despite pressure over payments to referee
Joan Laporta says club investigating events thought to have occurred from 2001 to 2018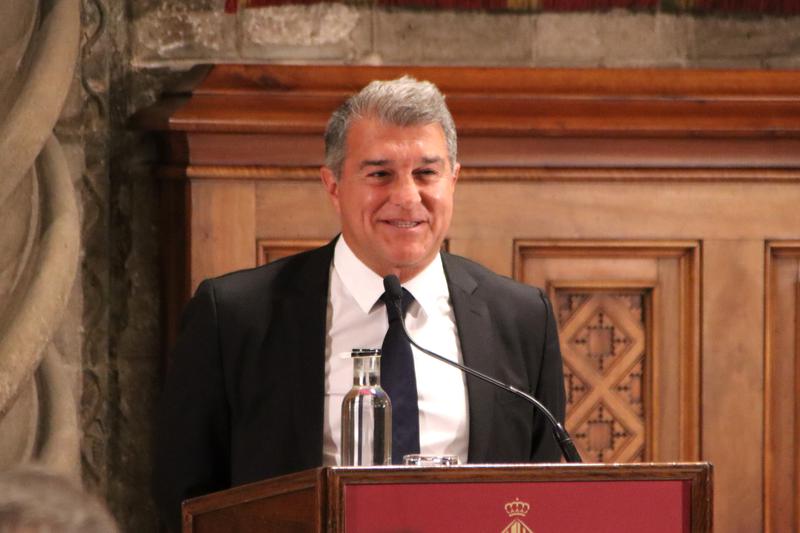 FC Barcelona president Joan Laporta is under mounting pressure over the recent revelations of payments made by the club to a referee between 2001 and 2018, but on Tuesday he made it clear that he will not step down.
In a statement at Camp Nou stadium, Laporta said he would not "delight" La Liga's president, Javier Tebas, who urged him to resign if he was not able to provide a "reasonable explanation" for the payments.
"During his career, he has repeatedly shown his anti-Barça feeling and his obsession against the club and now he has shown his true colors," Laporta said, referring to the La Liga head. "In 2005, while he was vice president of Alavés, he filed a complaint to prevent Leo Messi from playing for FC Barcelona."
"He does not forgive the fact that Barça defends the creation of the Super League and didn't sign the deal with CVC," he added, referring to a multi-million euro deal put forward by La Liga with a duration of 50 years, giving private equity firm CVC around 9% of the audiovisual rights of clubs for that period.
The information was first revealed by Spanish radio network Cadena SER last week, who published that public prosecutors are looking into payments worth around €1.4 million from FC Barcelona to the company belonging to Jose María Enríquez Negreira, who was working as the referees' committee vice president at the time, between 2016-2018.
Another report from El Mundo alleged that the payments were worth over €6.5 million, dating back to 2001.
On Tuesday, Laporta said that the 'blaugrana' team has outsourced their investigation to a law firm in order to lead "an independent, serious and excellent analysis." Lawyers are "coordinated with Barça's compliance department."
The events affect several former presidents, and also Laporta's first stint as president, between 2003 and 2010.
According to him, during his term, payments for "technical advisory work" to Negreira regarding "referees and young players" were made, and documents and videos were evidence of the referee's work.
Opposition complaints
After learning about the revelations, several other top-tier football clubs have publicly complained about the situation.

For instance, RCD Espanyol, another Catalan team, issued an official statement on Monday saying they were "alarmed" at the case.

"The potential implications this could have on our competition, the clubs that are part of it, and the involved institutions would be very serious," the 'blanc-i-blau' team said, calling for accountability of those responsible for the deal at a national and international level.