ERC aiming to consolidate growth across Catalonia
Pro-independence party won more votes than anybody else in 2019 after making significant progress in rural areas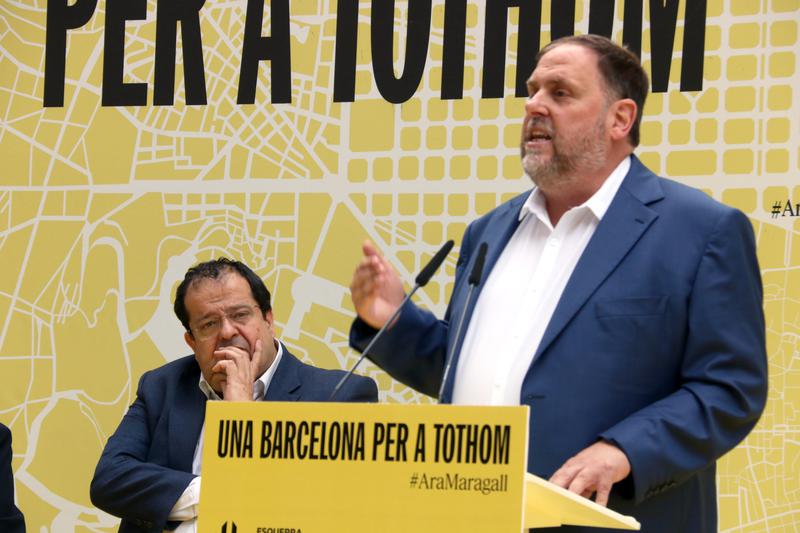 Esquerra Republicana (ERC) are one of the mainstream pro-independence parties, along with Junts per Catalunya, and they'll be hoping to consolidate positive results across Catalonia in these municipal elections.
Four years ago, ERC received more votes (822,107 total) than any other party in the local elections, edging the Socialists (768,478) by around 1.5 percentage points of the total vote share, and beating fellow pro-independence rivals Junts (557,303) by some distance.
ERC came first in around a third of the 947 municipalities across Catalonia during the last municipal vote.
These results were again a massive improvement on previous elections, with ERC on an upward trajectory over the past decade. 2015 already saw the left-wing pro-independence group make huge strides with 510,080 votes, compared to earning just 257,484 in 2011.
It'll be difficult to continue that same trajectory, but consolidating their power in rural areas and any growth in the metropolitan area will represent fantastic results for Esquerra in 2023.
Catalan and Spanish politics
Esquerra are a significant player in Catalan and Spanish politics, even if the party operate primarily within Catalonia.
On the Catalan level, they are the only party in the minority government led by Pere Aragonès, and they aim to achieve independence through negotiation and dialogue. On the Spanish level, they have been a partner of the minority government of the Socialists and Podemos, providing support to many key bills.
A left-wing party, Esquerra tend to focus on social issues such as equality, social justice, housing, the environment, and culture.
No Colau coalition
Esquerra positions itself as the best option for driving social progression. Gabriel Rufián, mayoral candidate in Santa Coloma de Gramenet, dubbed his party "the most socialist, the most pro-independence, and the bravest," and campaign talking points during these weeks have seen them link political rivals to a variety of problems such as the breakdown of service in the Rodalies commuter rail network, the huge growth of tourist apartments in Barcelona, and historic corruption cases.
In Barcelona, ERC have proposed a universal basic income scheme and promise to implement an agreement for a city minimum wage of around €1,500 per month.
During the 2019 vote, Esquerra actually won more votes than any other party in the Catalan capital, but incumbent mayor Ada Colau was able to gather enough support to remain in power.
ERC have also indicated they would establish new Barcelona council departments for animal rights and young people, and their candidate for mayor, Ernest Maragall, is keen on culture, and has proposed "a local culinary center" that will be the "expression" of Catalonia's cuisine. "It will be a large facility with space for various aspects, from the service itself, production, investigation, research, a laboratory, creation," he said in the Catalan News Agency press conference during this election campaign.
However, polls that have emerged in the past week place Maragall as the clear 4th place, behind Jaume Collboni of the Socialists, Xavier Trias of Junts, and Ada Colau of Barcelona En Comú. However, before fellow pro-independence candidate Trias announced he would run, Maragall had been polling first.
With no clear winner predicted in forecasts, it's almost certain that negotiations will have to take place once the results are in, and Maragall has been vocal against entering any coalition with incumbent mayor Ada Colau.
"In the last months and weeks of the campaign, I've seen significant differences [between myself and Ada Colau], but we will have to take them into account" after the election, he told reporters during his Catalan News Agency press conference.
Inland Catalonia and metropolitan area
Esquerra are strong across all of Catalonia. In the more inland, rural areas of the territory, they will be mostly vying with Junts for control of the heartland, where pro-independence sentiment tends to be stronger. Far-left pro-independence CUP will also have their say, as they too are generally strong in rural areas.
Competition with Junts to garner the most votes and the most councilors is fierce. This is an especially important factor for these parties as they both operate primarily within Catalonia, unlike Spain-wide parties such as the Socialists and the People's Party, and this means that having officials elected can be even more significant for their party funding.
In the metropolitan area surrounding Barcelona, there's no doubt that the Socialists lead the way, but Esquerra, also a left-leaning party, were the second force in many towns surrounding Barcelona in the last elections.
The pro-independence group will be targeting growth to cut down on some of the Socialist absolute majorities in the zone, giving them a say in some of those councils.
Santa Coloma de Gramenet will be a particularly interesting battlefield for Esquerra, as they have chosen Gabriel Rufián as their candidate to take on Socialist Nuria Parlón. Rufián has spent the last number of years confronting the Spanish government in the Congress in Madrid, and in that time has become a lot more well known.