Barcelona's red belt: Socialist stronghold in Catalonia
20th-century working-class migration means PSC eyeing up absolute majorities in metropolitan area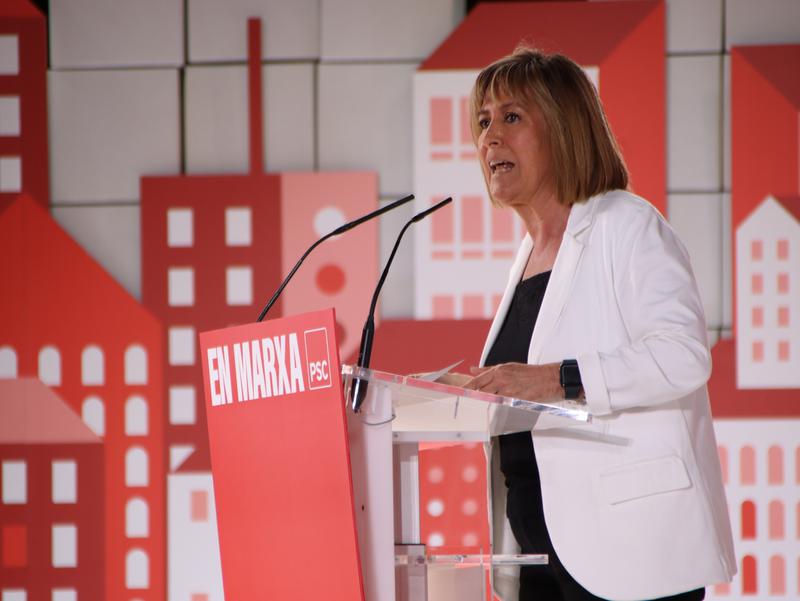 A quick look at the map of the winners of the last local elections tells some interesting stories. Looking toward the Barcelona metropolitan area, one can see a concentration of towns in red where the Socialist Party came out on top, more than any other part of the territory.
The red belt encircling Barcelona is a stronghold for the Socialists and has been for decades. In some municipalities, the left-leaning party has governed consistently ever since the return to democracy in 1979, as is the case in Sant Boi de Llobregat and in L'Hospitalet de Llobregat, the second-most populous city in Catalonia, immediately south of Barcelona.
Absolute majorities
In many of these towns, the biggest question this election will be whether the Socialists can win another absolute majority, such is the case in towns like Cornellà, Sant Joan Despí, and indeed L'Hospitalet. The task for the challengers is to grow enough just to have some say in the council for the next four years.
Núria Marín, mayor of L'Hospitalet since 2008, says she feels "stronger than ever" ahead of the 2023 elections after her last mandate was marked by a corruption investigation she was later cleared of, although two of her former councilors are still facing trial.
In February 2022, 11 arrests were made in connection with alleged corruption in the Baix Llobregat county's sports council. Most were cleared of wrongdoing, but two former L'Hospitalet council members – Cristian Alcáraz and Cristóbal Plaza – are still being investigated and could yet see trial.
Jaume Graells of pro-independence Esquerra Republicana (ERC) will be her biggest challenger after he left the Socialists during the last term, and it is he who filed the initial complaint that led to the investigation.
Then there are towns where the Socialists govern with minority governments, as is the case in Sant Adrià de Besós and Cerdanyola del Vallès. In these places, the PSC will target growth, repeating absolute majorities as they have done in many other municipalities, whereas challengers will look to wrestle back some more control.
20th-century working-class migration
But why is it that the Socialist Party is so strong in the areas surrounding Barcelona? History, demographics, and industry can go a long way to explaining this.
During the 1950s and 60s, many people moved northwards from other parts of Spain in search of jobs in industrialized areas on the outskirts of large cities, including Barcelona.
In Catalonia, many people moved from the southern region of Andalucía, also traditionally a working-class Socialist stronghold, and passed their voting patterns down the generations.
Purple patches
The Barcelona metropolitan area's red belt also has some purple patches across it too. The political space led by Ada Colau's En Comú movement, left of the Socialists, encapsulates the former Communist party, which was very strong in municipal elections in Catalonia particularly shortly after the return to democracy, before later evolving into the Green party.
In more recent years, this political space has developed into the anti-austerity En Comú movement in Catalonia, and Podemos movement across Spain, born out of the difficult post-2008 crisis years.
This part of the left-wing space in Catalonia saw a huge surge in the 2015 elections, including Ada Colau becoming the mayor of Barcelona, but 2019 saw a drop-off in support. Yet, for the past four years they have still controlled the councils of Montcada i Reixac, Ripollet, El Prat, and of course Barcelona itself after reaching a deal with other parties as Colau finished just behind ERC's Ernest Maragall in the voting.
Esquerra, second
In many Socialist-governed towns, Esquerra Republicana are the second-strongest party, as is the case in towns such as L'Hospitalet de Llobregat, Sabadell, Sant Adrià de Besós, Esplugues de Llobregat, Granollers, and more.
Santa Coloma de Gramenet will be an interesting battlefield this year, as Esquerra have put Gabriel Rufián up as their candidate for mayor. Having spent years confronting the Spanish government as an MP in the Congress in Madrid, Rufián has become a very well-known figure in his hometown.
Liberals Ciudadanos were another strong force in a lot of metropolitan municipalities in the last election, but polls predict that their biggest goal will be just to survive.
It's expected that they will lose voters, with the conservative People's Party, far-right Vox, or even the Socialists likely to benefit from their fall.