Farmers march in tractors for 20 hours to demand drought aid
Dozens of agricultural vehicles traveled from western Catalonia to Ebre river authority in Zaragoza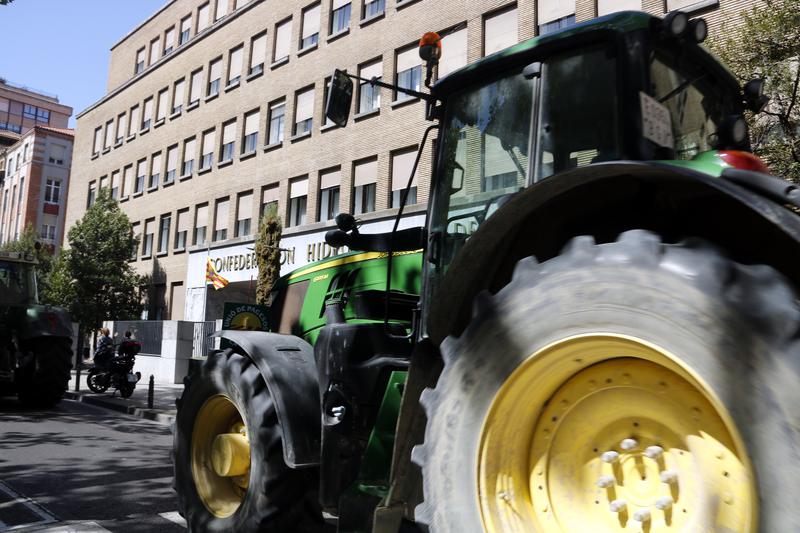 Farmers from western and southern Catalonia have traveled in their tractors for up to 20 hours to Zaragoza, a city in the neighboring region of Aragon, to demand financial aid due to the drought.
Around 50 tractors and 50 more cars left from the Lleida area, in the west, and the Ebre river delta region, in the south, to make their way to the seat of the Ebre Hydrographic Confederation (CHE), the authority overseeing the water flows and reservoir levels along the river, which decided to declare a 'state of exceptionality' in Catalonia's Segre river – a tributary of the Ebre.
Two major irrigation systems in western Catalonia, the most agricultural region of the territory, have seen their flows severely disrupted in the past few weeks, increasing farmers' fears of a disastrous season.
Indeed, during the protest in Zaragoza organized by the Unió de Pagesos trade union, they criticized the CHE, arguing there has been a lack of planning ahead of the closure of Urgell and Segarra-Garrigues canals.
Harvest of 140 million kg of rice at risk
The Ebre river management body is expected to hold a meeting with the farmers on Wednesday.
A representative for Unió de Pagesos, Jaume Pedrós, told the press in Zaragoza that they had asked for a meeting with the CHE on April 20, but the authority has not agreed to meet them until they have staged the protest.
Another spokesperson for the same union, Albert Ponts, said that they will run out of water for the Ebre delta rice fields in the first fortnight of July.
"This is our fear and uncertainty," he said, pointing out that none of the 140 million kg of rice that is harvested every year may be able to grow this year. Mussels, tourism and biodiversity could also be affected by the drought in the nature-rich area.
All in all, Unió de Pagesos said that losses will be €270 million only taking into account in the areas using Urgell and Segarra-Garrigues canals. Therefore, they believe that the €270 million announced by the Spanish government for all of Spain to ease the situation are "not enough."
The union says they will also travel to Madrid by tractor if needed.
As for the CHE, they say they have been taking measures since last summer and expressed that the Ebre basin experienced a rainfall 70% below average in March and April.