Canal d'Urgell water canal to close irrigation system on Tuesday due to drought
First time in history such drastic measure is taken, farmers to call for compensation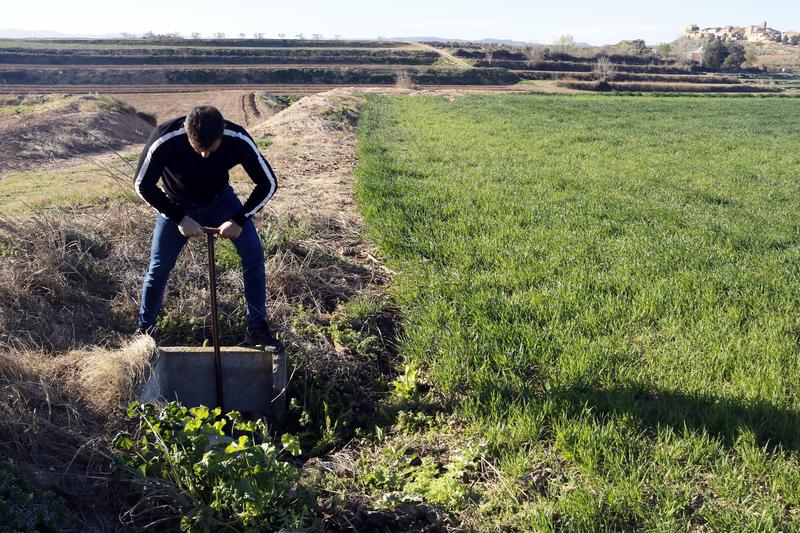 The 'Comunitat General de Regants dels Canals d'Urgell' water authority in central Catalonia agreed to close the irrigation system on Tuesday, April 25, due to the lack of rain as a result of the ongoing 30-month drought.
Right now, the Oliana-Rialb reservoirs are at minimum levels, prompting authorities to make the drastic decision for the first time ever. The irrigation system had only opened over a month ago for the season.
Farmers have called for summer harvests to be avoided and expect there to be millions of euros in losses.
Recently, the authority announced the possibility of shutting down the irrigation system in May if there was no rain, but officials decided to close it earlier than expected.
"We have reserves of less than 60 cubic hectometers, which is what we consider to be the bare minimum for supply," Xavi Díaz, general director of the Canal d'Urgell water authority, told media outlets.
Water supplies are at 42 cubic hectometers in the Oliana-Rialb water reservoirs, the lowest levels in the last 70 years, as the maximum capacity between both reservoirs is up to 500 cubic hectometers.
The Urgell water canal is the largest irrigation system in Catalonia, as it reaches around 70,000 hectares of land across Pla d'Urgell, Noguera, Urgell, Garrigues, and Segrià counties.
It also brings provides water to 77,000 inhabitants and various enterprises and farms in the area.
Reservoirs at 26% capacity
After weeks without significant rainfall, reservoirs in Catalonia are at 26% capacity as of April 20, 2023, according to the Catalan Water Agency.
Learn more about the issue by listening to the Filling the Sink podcast episode from September 2022.