Going to Coldplay in Barcelona? Here's what you need to know and how to get there
British group to play four nights in sold-out Olympic Stadium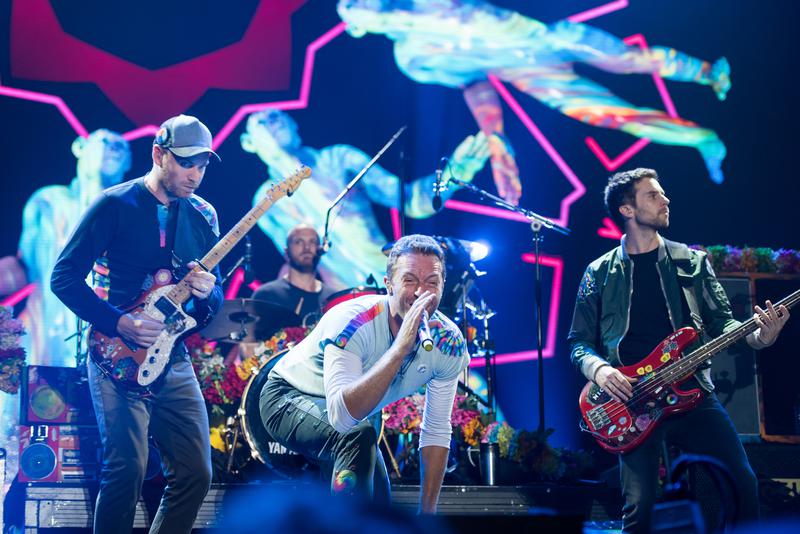 Planning to go to 'Paradise' and don't want your 'Clocks' to stop working and miss 'Viva la Vida'? If you understood these very-bad puns, you are more than ready to sing along with Coldplay in Barcelona this week. And if not, you better read this guide on what you need to know ahead of the four concerts.
This British rock band was formed in 1997 in London. Its five members are vocalist and pianist Chris Martin, guitarist Jonny Buckland, bassist Guy Berryman, drummer Will Champion, and the creative director Phil Harvey. Initially, they were called 'Big Fat Noises' and later 'Starfish,' but changed their name to Coldplay.
Since then, the group has played many times in Barcelona, their last appearance coming in 2016. This week the return of the band on its 'Music of the Spheres World Tour' marks a milestone for the Estadi Olímpic Lluís Companys, as it will be the first time in history that an artist fills up the stadium four times on a single visit.
Coldplay will perform on May 24, 25, 27, and 28.
Concert hours
Coldplay's performance will start at 9.30pm and will last around 2hr 30min.
Venue doors will open at 5pm, with Spanish group Hinds performing at 7.15pm, ahead of Scottish synthpop group Chvrches at 8.15pm.
How to get to the Olympic Stadium?
The Olympic Stadium is on top of Montjuïc hill, and access by private car is restricted as parking is limited.
To avoid traffic congestion, Barcelona authorities recommend using public transport.
One of the ways to get to the stadium is by metro, stopping at Plaça Espanya station. In this case, concert-goers will need to take the L1 or L3 metro lines and then walk up the hill from the square. There are escalators available, which will stay open until 2am due to the concerts.
For those travelers taking the L2 metro line, they can stop at Paral·lel and then take the Montjuïc funicular, open until 10pm.
On Wednesday, Thursday, and Sunday, the metro works until midnight. On Saturday, it runs all night.
Another option is to take the 150 bus from the square and get off at Passeig Olímpic. Bus lines 13, 55, and 125 will also be in service.
For queries, Barcelona's metropolitan bus authority TMB has a website with more details and real-time traffic information.
TMB has a 25% transport ticket discount for those who buy the Hola Barcelona Travel Card using the COLDPLAYBCN code until May 28.
How to enter the Olympic Stadium?
There are many ways to enter the Olympic Stadium, depending on the ticket you have for any of the four Coldplay concerts.
While those with tickets for seating will have a specific door to enter written on their ticket, people standing will need to enter through a different access located by Catalonia's INEFC sports academy.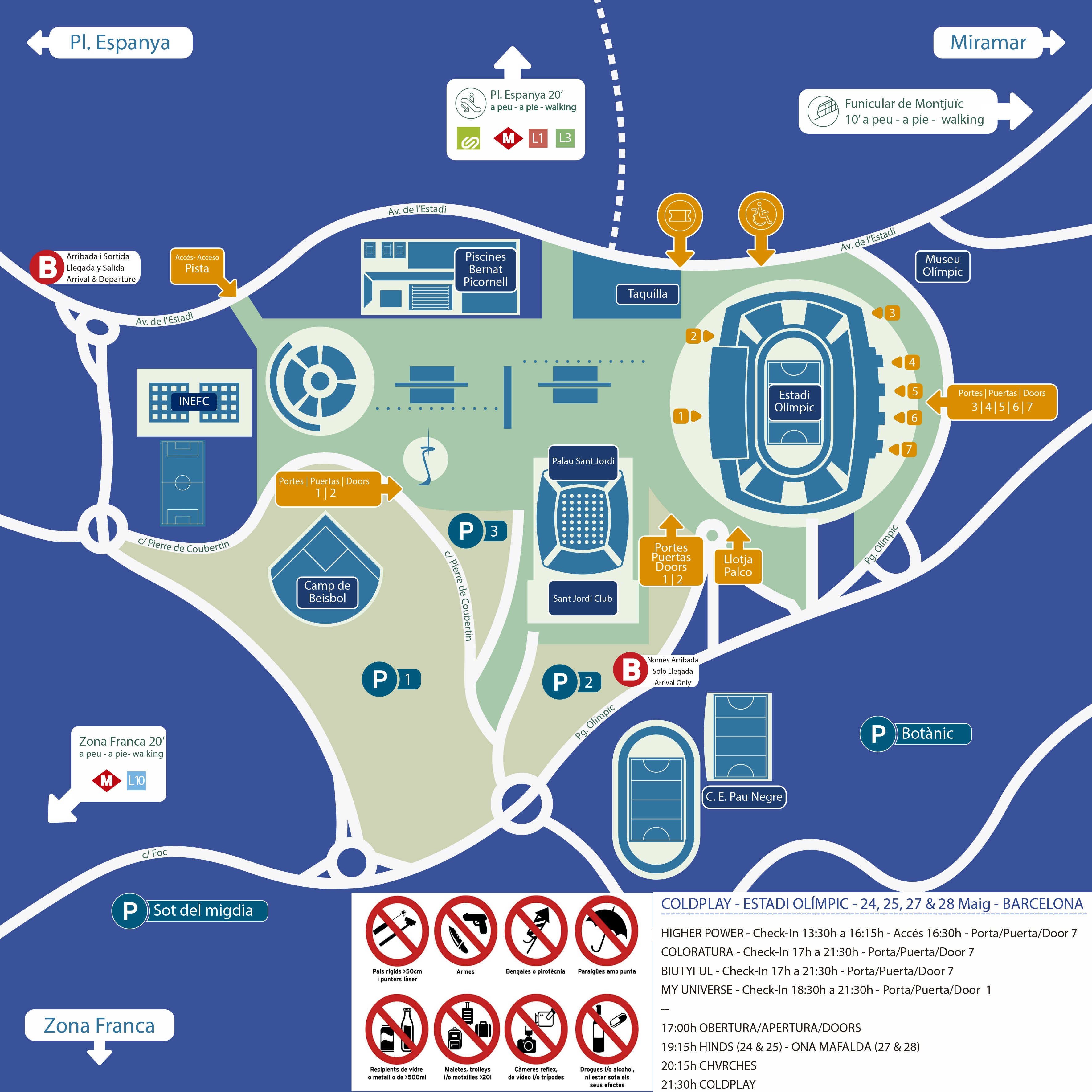 Food and drinks
Bringing food into the concert is allowed, but only if it is not held inside a container. However, those looking to buy food will be able to do so at one of the many stands open across the arena. Vegetarian and gluten-free options are available.
Paying by card is recommended, but cash is also accepted.
Bringing drinks in is also allowed, but only plastic bottles of a maximum 500 ml capacity and with no cap.
What is not allowed to enter the Estadi Olímpic Lluís Companys?
Those going to the concert by motorcycle should know that helmets are prohibited from the Olympic Stadium. It will not be possible to leave helmets inside a locker or cloakroom as the venue does not have that option.
Other items not permitted include selfie sticks, weapons, fireworks, metal or hard plastic canteens, suitcases, computers, and cameras.
Large umbrellas are also not allowed.
Will it rain?
At the moment, it does not seem like Coldplay will end up singing in the rain on Wednesday.
Catalonia's meteorological agency forecasts temperatures around 20ºC and no rain.
Sign language
Coldplay will take steps to improve the experience of deaf people at the four concerts. The rock band will offer both Catalan and Spanish sign language interpretation at all shows and will also provide vibrating backpacks to those with hearing loss so that they can enjoy a "complete" experience.
The accessibility measures will be implemented by the Associació Socio-Cultural Encantades, with a team of four interpreters who will simultaneously offer both sign languages.
Songs to learn ahead of the concerts
With a decades-long career, it is difficult to say which songs people should learn before going to a Coldplay concert. Here are a few suggestions for starters.