PortAventura to open new dark ride 'Uncharted' on June 17
Roller coaster based on box office hit film starring Tom Holland and Mark Wahlberg will be located in Far West area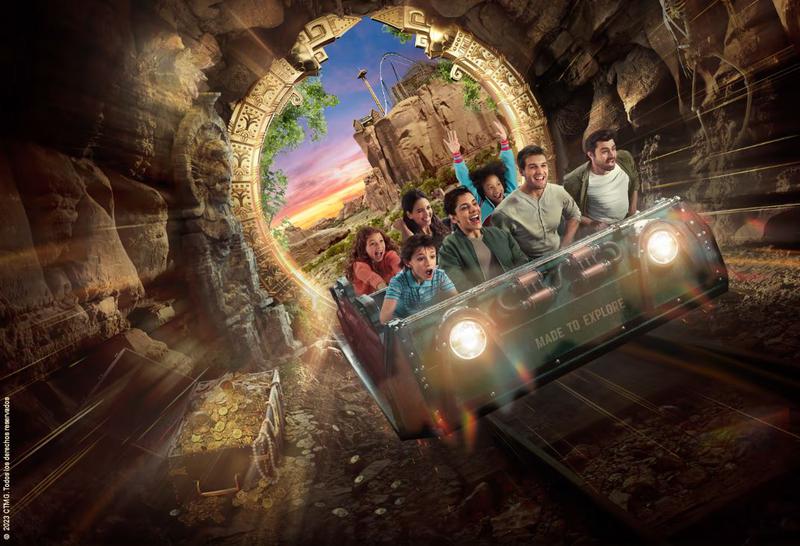 Catalonia's largest amusement park PortAventura will open its first dark ride on June 17, it was announced on Tuesday. The roller coaster, 'Uncharted, the Enigma of Penitence' will be located in the park's Far West area and is based on the box office hit film starring Tom Holland and Mark Wahlberg.
Uncharted is set to be the season's big attraction. "Legend has it that more than 500 years ago, an Aztec treasure was hidden in a place that does not appear on any map," PortAventura said.
Riders of the roller coaster will live through the "discovery by explorers Nathan and Sully" as they uncover "the greatest fortune ever found in the heart of the Far West. But it seems that they are not the only ones to have found it," the park announced in a released statement.
They will have to go "through the secret entrance that accesses Penitence mountain and step into the darkness," the text reads, as this is the first dark ride in the park that will offer visitors "a thrilling and immersive experience in search of one of the world's greatest treasures."
The attraction will take place in complete and utter darkness and will only be recommended for people capable of facing dizzying speeds, immersive special effects, and hyperreal visual effects.
Dark and unexplored territories
The dark ride roller coaster will be almost 700 meters in length and reach a height of over 12 meters high in a unique enveloping space, 4,800 square meters and 16 meters high, according to the Salou-based theme park.
The new ride promises to reveal dark and unexplored territories with a pre-show full of surprises and a journey of unexpected events in a totally immersive experience.
Costing €25m, the project is a result of a collaboration between design company Intamin Amusement Rides, and Sally Dark Rides, who specialize in the development of dark rides and animatronics design.
Catalan connection
The roller coaster will not be the first link between Catalonia and Unchartered. Several scenes from the movie – based on the PlayStation video game series of the same name – were filmed in Barcelona.
Tom Holland, who plays Nathan Drake, told the Catalan News Agency (ACN) that "shooting in Barcelona was a dream come true."
Among the locations in Barcelona where filming took place are Montjuïc, the Gothic quarter, Plaça Reial square, the 15th-century church Santa Maria del Pi and Gaudí's masterwork, the Sagrada Família.