Nanosatellite data to help winegrowers in rural Catalonia
Government will launch second nanosatellite in autumn focused on climate change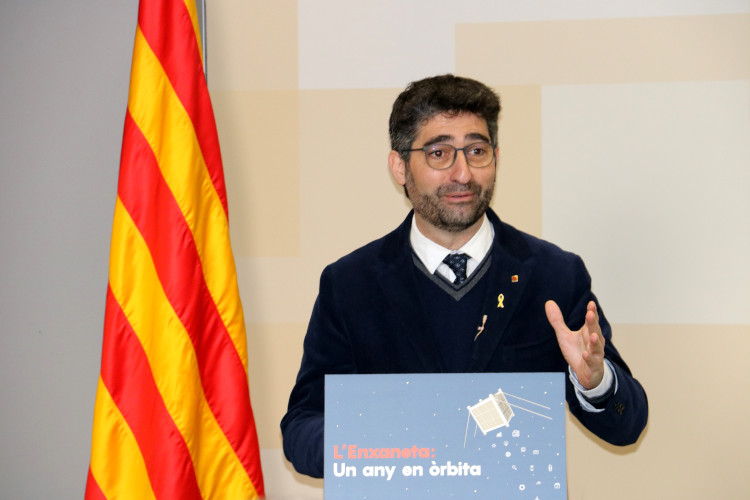 Winegrowers in the Conca de Tremp area in northwest Catalonia will soon gain new insight into the soils in their vineyards, using data collected by the nanosatellite Enxaneta.
Catalonia's first nanosatellite – named after the young children who climb to the top of traditional human towers – was launched from Kazakhstan in March 2020.
One of its tasks has been collecting information from sensors on the ground in areas with poor telephone coverage, in order to analyze how various physical parameters of the soil vary, with a view to helping grape growers.
How it works
The Cartographic and Geological Institute of Catalonia (ICGC) has a network of stations that measure soil and environmental parameters, with some sensors buried 5, 20, 50 and 100cm deep.
The project began with vineyards in the Conca de Tremp region and has expanded to other areas in the Pyrenees and Pre-Pyrenees, with climate change forcing vineyards to move to higher altitudes.
This means observation stations are installed in places with poor mobile phone network coverage, meaning the coverage provided by Enxaneta is key to their operation.
From Wednesday, the data obtained will be made available to the public.
Farming, forestry and emergency services
Throughout 2022, the nanosatellite will also be deployed for other applications, such as livestock farming, forestry and for use by the emergency services.
Giving an update on the Catalan government's NewSpace program on Tuesday, vice president Jordi Puigneró also announced the launch of a second nanosatellite this autumn, focused on the fight against climate change.
The cost of the whole project will be €1.7m, while Enxaneta alone has cost €574,000.
While presiding over the presentation of the first results of real-world use of Enxaneta data, Puigneró said that "to bet on knowledge, technology and the space economy is to bet for the future of work in this country."
Podcast
Listen below to the Filling the Sink podcast on the first Catalan nanosatellite in space - small step, giant leap or a load of hot air?