Catalonia's second nanosatellite enters orbit
Menut launched from Florida on board SpaceX rocket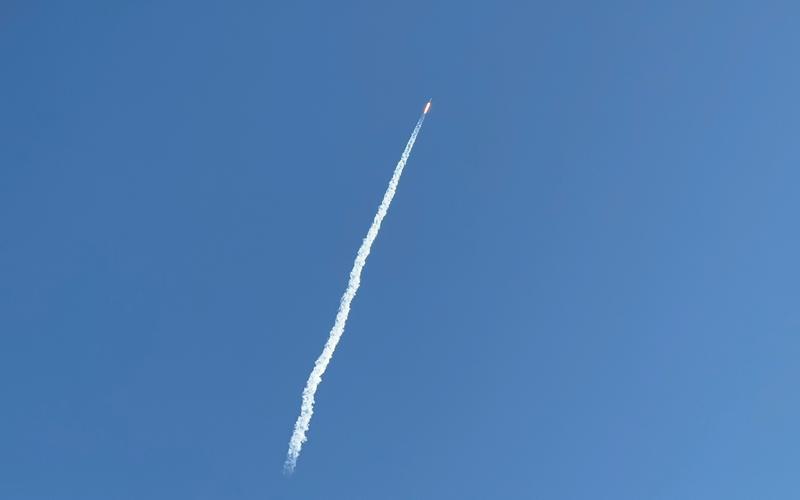 At 4.58pm (Catalan time) on Tuesday, Menut, Catalonia's second nanosatellite, entered orbit.
The satellite, developed as a project of the government's NewSpace strategy, was launched from Cape Canaveral, Florida, on board a rocket belonging to the American company SpaceX, which also carried other devices.
Approximately one hour after the launch, the satellite was ejected from the rocket.
Business minister Roger Torrent followed the operation from the headquarters of the company that manufactured the device, the Barcelona-based Open Cosmos, from where he also announced that Catalonia will launch a third nanosatellite into space during the first half of 2023.
"We don't want to stop here"
"The government's NewSpace strategy seeks to position Catalonia, its technology and its emerging companies in this sector in an environment that will grow a lot in the coming years," Torrent said after the launch of Menut.
The space industry sector will be form a key part of the European economy in the future, he explained.
"We don't want to stay here, we don't want to stop here. We want to continue contributing as an administration to growing this industry and all the technology associated with it," he added.
Energy and climate change
Menut will provide data that will prove very useful when dealing with challenges such as energy or climate change, according to the director of the Catalan Institute of Space Studies, Ignasi Ribas.
The nanosatellites funded by the government also serve to "train up" a Catalan industry that seeks to compete at a global level, Ribas added.
The mission is already a success, Rafel Jordà, the founder of the firm responsible for the nanosatellite, told the press.
"Every time we launch a satellite we feel great excitement," he said, highlighting the value of having a company like Open Cosmos established in Catalonia, able to "design, manufacture, put into orbit and operate" satellites.
OpenConstellation
Menut will now form part of the OpenConstellation project, a collection of nanosatellites that will work in a coordinated manner to tackle global challenges such as climate change, the energy crisis and natural disasters, among others.
According to Open Cosmos, the project aims to become the world's largest "global and shared" network of Earth observation satellites.
The government says that the data obtained by Menut will provide "crucial" information, that will help with analyzing crop and soil productivity, the prevention and detection of forest fires, and the planning and supervision of urban and rural development.
Menut and Enxaneta
Catalonia's second nanosatellite was named Menut, which means small in Catalan, after almost 20,000 children voted on what it should be called.
The first nanosatellite, Enxaneta, was named after the daredevil children who climb to the top of human towers and raise their hands to the sky to signal the castell (castle) has been crowned.
Find out more about Enxaneta in this podcast from March 2021.