Catalonia's second nanosatellite, 'Menut', to focus on climate change
Almost 20,000 children voted on name of satellite to be launched late-2022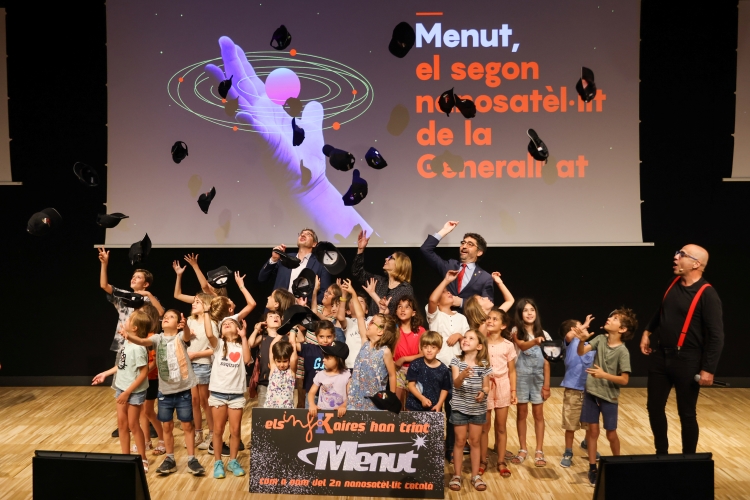 Catalonia's second nanosatellite has been named 'Menut', which means small in Catalan after almost 20,000 children voted on what it should be called. The vote was organized by Catalan public broadcaster's InfoK news program for children on the Super3 channel.
The new nanosatellite, which alongside the first nanosatellite 'Enxaneta' cost €1.7m, will be used to focus on the fight against climate change.
'Enxaneta' – named after the young children who climb to the top of traditional human towers – was launched from Kazakhstan in March 2020.
However, 'Menut' will not be launched from Kazakhstan, as the Baikonur Cosmodrome is a Russian-owned infrastructure. The Catalan government had already announced in February that it would be launched from another site to protest the Russian invasion of Ukraine.
'Menut' is expected to be launched into orbit during the second half of 2022.
Kids chose the name
The name 'Menut' won the contest with 4,532 votes, around 22% of the 20,000 votes. At the beginning, organizers initially received 256 name proposals, with children voting on the 10 that had been shortlisted, including Borinot ('bumblebee'), Espiadimonis ('dragonfly'), Espurna ('spark), Estel ('star'), or Galet (a Christmast-time pasta shell).
The idea to name it 'Menut' came from Ares, a six-year-old, and Cèlia, a four-year-old. Both girls were awarded a hot air balloon ride by the Catalan vicepresident and Digital policies minister, Jordi Puigneró, and the Catalan Audiovisual Media Corporation (CCMA) president, Rosa Romà.
The name of the first nanosatellite, 'Enxaneta', was also voted on, but only 10,000 children participated - half as many as this time around.