Catalan research centers contribute to international breakthrough on cancer
Investigation finds that genetic mutations could be detected decades before tumor appears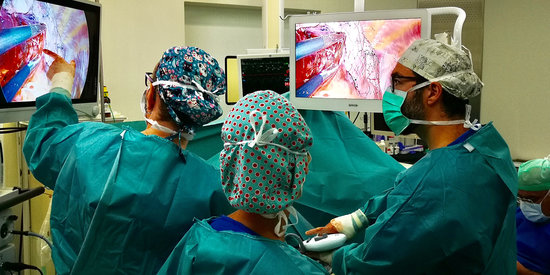 Signs of cancer can be detected decades before a tumor appears, according to international research published by 'Nature' magazine on Wednesday.
This international breakthrough on cancer is the result of the work of the Pan-Cancer Analysis of Whole Genomes (PCAWG) Consortium, a global effort made up of some 1,300 researchers of 70 centers in 37 different countries. They made genetic maps of mutations in 38 different types of tumours.
Some researchers from Catalan centers contributed to the investigation, including some members of the Center for Genomic Regulation (CRG, in Catalan), Pompeu Fabra University, the Institute of Evolutionary Biology (IBE), the Institute for Research in Biomedicine (IRB) and the Barcelona Supercomputing Center.
According to 'Nature,' the report "has yielded multifaceted studies of more than 2,600 tumors from 38 tissues, generating a wealth of insights into the genetic basis of cancer."
"[It is] the most comprehensive and ambitious meta-analysis of cancer genomes so far," it adds.
"The group sequenced 2,658 whole-cancer genomes, alongside matched samples of non-cancerous cells from the same individuals [taking part in the research]."
"The group's findings suggest that driver mutations can occur years before cancer is diagnosed, which has implications for early detection and biomarker development," says the academic article.
Key to develop personalized medicine
"The findings will be key to developing personalized treatments, once the sequencing of a cancer's genome becomes common in the clinical sphere," said Ivo Gut, the director of the National Center of Genomic Analysis (CNAG-CRG), which is part of the Center for Genomic Regulation.
Speaking to the Catalan News Agency, he said, "In the not too distant future we will be able to diagnose the type of tumor with precision, more accurately predict the progression of a cancer, and choose the appropriate treatment."
His center CNAG-CRG contributed to the project sequencing 95 primary tumors of chronic lymphatic leukemia.
Never smoking better than giving it up
Gut explained that the type of tumor can be identified by patterns of genetic mutations in the genome, which can suggest the cause of the cancer. For instance, smoking leaves specific patterns, while some hereditary cancer types show different signs.
"We already knew, but it is now confirmed, that giving up smoking lowers the chances of undergoing a genetic change that leads to lung cancer, but does not completely eliminate them," said Gut. "So it is better to never smoke in the first place, rather than give it up."