Catalan companies part of 5G robots at MWC opening a new horizon
Estrella Damm and Codorniu wine cellar among businesses presenting bar service robots at Mobile World Congress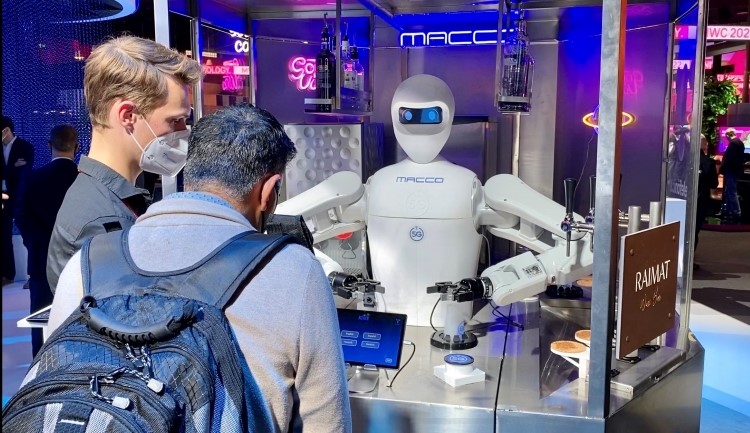 Mobile World Congress (MWC) turns out is not only about new phone devices and mobile technology, but also about robots. These machines have become the main characters at the trade show held in the Catalan capital until Thursday.
The vast majority are robots serving drinks but there are a couple of other uses for these machines such as security and helping people in need.
The main star of the show, going by the number of people taking selfies with it, is Kime. The robot is on show at MWC and works with 5G connectivity. The difference between previous bandwidth connections and the new one is the possibility to develop droids such as this one, as robots will now be able to have more human interactions.
"Kime has two different functionalities," Juan Cambeiro, 5G Customer Innovation at Spanish telecommunications Telefónica company, said to Catalan News. The robot is specialized in serving drinks and more elaborate products as customers can order wine, cocktails or sparkling drinks with just a couple of clicks on a touchscreen.
The first function is "the ability to speak in different languages, which is something you don't need to implement on the robot itself, but this is delivered by the 5G technology," Cambeiro explained. The second functionality works hand-in-hand with face-recognition as the robot can call a user by its name and "offer their personalized drinks."
Robots not waiters
Waiters may be worried these new technologies could replace them and leave them out of a job, especially as machines do not need to take a break and can serve drinks all day long. However, developers argue this will not be the case.
"I'm a bar person, and you always like going with friends and to have human interaction," Cambeiro recognized. "The idea is to evolve those places where you do not have people attending, such as vending machines, to offer something more complete," he added.
At the Mobile World Congress, Kime was serving several drinks but mainly wine as Raventós Codorníu, one of the most renowned Catalan wine cellars in the territory, partnered with the telecommunications company.
Big festivals, a new horizon
Another robot presented at the trade fair is also focused on serving drinks. This time, instead of Catalan wine, the robotic arm serves "the perfect beer, with two fingers of foam," Catalan Estrella Damm beer company said in a press release.
At the bar they have located in one of the tech fair halls, the drinkmaker has a new device helping "waiters serve faster but without reducing the service quality," the press release reads.
The prototype has been tested at MWC's 2022 edition, the kind of event, amongst those such as "fairs, festivals, or concerts" where the sheer number of clients makes an extra hand necessary.
Security and help
Big companies have not lost the opportunity to showcase some of their biggest innovations so far. One of them is North American Boston Dynamics company with its four-legged robot, which, despite the resemblance, cannot be called a dog.
While, Chinese manufacturer Xiaomi, has publicly shown their cyber-dog for the first time in Europe here in Catalonia.
In this case, it can indeed be called a dog and has several functionalities such as monitoring security at warehouse facilities, as well as helping people in need.
The dog "will always be detecting the environment with cameras and the sound with microphones, and, automatically, with the sensors in the head, he will livestream what he sees to the central security system, and will send an alert if there is something abnormal in the environment," Fabio Arena, Product Marketing Manager at Chinese Xiaomi manufacturer, told Catalan News.
The idea is also for it to be of help to those with "limited vision or limited listening, as he will be able to help these people in their daily lives," Arena added.
So far, Xiaomi has only launched their prototype available for developers in China but not yet in Europe. The company is currently selling the product to those looking for improved functionality technologies for around €2,000.
All these new products presented at Mobile World Congress are only prototypes. They can be part of everyday live, but so far their future depends on people welcoming them - similar situation for the new metaverse creation.