Barcelona hospital to debut first robot used for endoscopies
Vall d'Hebron to get Artis Pheno device producing 2D and 3D images to provide a complete picture of the affected area of the digestive tract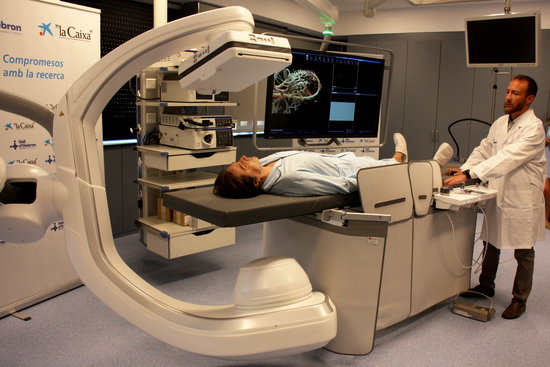 Barcelona's Vall d'Hebron hospital is to get the world's first radiological robot to carry out endoscopies at its World Institute for Digestive Endoscopy Research (Wider).
The so-called Artis Pheno robot will be able to provide 2D and 3D radiological images in real-time while the internal examination of the patient's digestive tract is taking place.
The purchase of the robot is part of the hospital's 10-year-old agreement with La Caixa bank foundation, which has just been extended for another four years.
The new La Caixa deal is worth 4.15 billion euros, which will cover the cost of the robot and extending the service so that an extra 1,200 patients can be treated every year.
Seeing inside and outside the organ
Made by the Siemens company, the robot can perform improved endoscopies that allow doctors to see the outside of the organ in question and not just its interior.
The robot does this by scanning the organ, producing 2D and 3D images that can then be merged to provide a complete picture of the affected area.
The new service is a first in the field of endoscopic surgery and operations that use natural body openings in order to diagnose and treat illnesses.
The robot has cost 1.6 million euros, and more funds will go on increasing the number of endoscopy rooms from four to six, and expanding the patient recovery and waiting areas.