Barcelona airport will test facial recognition for check-ins and boarding
Vueling and facility manager Aena to trial the technology in flights to and from Málaga and expect to expand it to other routes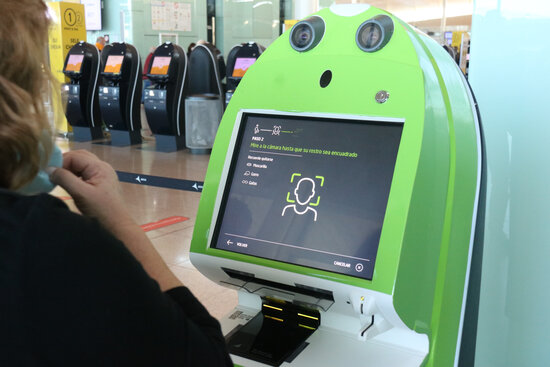 Barcelona airport will test facial recognition technology for check-ins and boarding flights operated by Vueling on the Barcelona-Málaga route, which has seven services per day.
Trials began on Wednesday and are expected to last around six months. The airline and Aena, the Spanish government-managed company in charge of the airport in Barcelona, aim to extend the initiative to other destinations such as Sevilla and Madrid.
Passengers who want to get involved in the test can do the validation process with their ID or passport through the Aena app or a machine set up in the hallway of El Prat airport.
Once the system has matched the person's face with the boarding pass, users will be able to check luggage in, go through security checks, and board the aircraft just by scanning their face into a camera, without any need to show any document through the process.
The initiative also wants to offer an "easier and more efficient" process according to Vueling's customer service office director, Calum Laming, who also said that using facial recognition technology will avoid human contact, which is a positive in the context of the current health crisis.
Yet, the official denied that the facial recognition system will make any worker redundant, at least during the pilot test.
"This is optional, it is not a requirement for the passenger," Laming also said, reminding that passengers can also go through the usual process of showing their ID and boarding pass.
Also participating in the project are the companies Easier, Idemia, Indra, IPS, and Mobeel.
Passenger figures November 2021
This came just a few days after the passenger figures for November in Barcelona Airport were published, showing a 36.9% drop in users compared to 2019, with 2.3 million people departing from or landing into the Catalan capital.
This is the closest figure to pre-pandemic levels since the beginning of the health emergency, surpassing the 42.2% drop in passengers seen in October, the smallest such decrease since March 2020.