The special 'connection' being built between Barça Femení and their fans
Barcelona's women's team have broken records on and off the pitch this season, leading to "social movement" among fans in Catalonia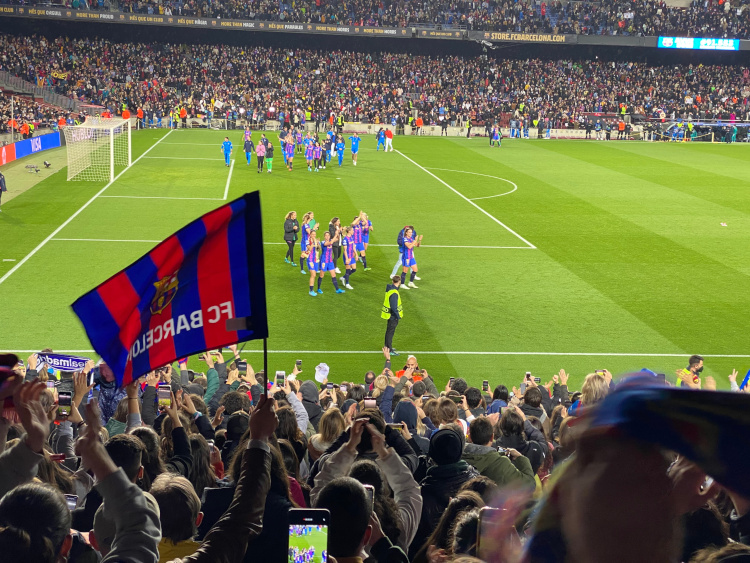 Barça Femení have been relentless again this season.
League champions with a perfect record of 30 wins from 30 games played; 159 goals scored at an average rate of 5.3 per game, and only 11 conceded all season; Supercup winners by beating Atletico Madrid 7-0 in the final; a Copa de la Reina final to be played on Sunday; and a third Champions League final in their history reached this season.
One of the most impressive things about this team is not just the titles and records racked up, but how they've managed to keep their level up so high after already enjoying so much success, both this season and last.
In reality, keeping motivation levels so high is "not a problem for this team," attacker-turned-left-back Fridolina Rolfö told Catalan News at the media day ahead of the European Cup final. Their performances come from the training ground, and the Swedish star says that every training session is "really tough" in this extremely "competitive" squad.
"Everyone wants to win every part of the training." She thanks the management team too, and explains that if Barça Femení are facing a weaker opponent on any given week, certain targets are set: "it could be that we have to score an amount of goals, I like that because it makes us work even harder."
World records
Barça Femení won the Champions League for the first time last season, beating Chelsea 4-0 in the final, but that was achieved with no fans in the stands to witness their historic feats. This year, fans are really responding to this incredulous level of high performance.
Not too long ago, Barça Femení played in front of almost nobody, as forward Mariona Caldentey remembers. Things have completely changed on that front – this season the team broke the world record for the highest attendance at an official women's football match, not once, but twice. In the Champions League quarter-final against Real Madrid, 91,553 people turned out to be a part of history. A month later, at the home leg of the semi-final against Wolfsburg, 91,648 turned up.
After the first world record-breaking game – the team's first time ever playing in front of a crowd at the Camp Nou – the joy was clear for all to see. The players wanted to savor every moment of celebration after the full-time whistle, singing and chanting the same as any other fan in the stadium was. Some of the players even brought one of the drums that the singing section behind one of the goals was using during the 90 minutes onto the pitch to lead the celebrations first-hand.
Mariona says that playing in front of crowds is not only exciting, but that it also helps the team perform better. In each of the Camp Nou games, spurred on by those world record crowds, Barça scored 5 goals. "It's a beautiful thing. It gives us encouragement and strength, and we have to make the most of this social movement to keep attracting more and more people to see our games," the forward says.
'Social movement' and Easter cakes
Caldentey wants to make the most of what she describes as a 'social movement' backing the team and keep attracting more and more fans to games. This social movement has seeped into wider society too, not only on the stands at games.
Easter in Catalonia always features specially decorated cakes called 'Mones de Pasqua', which often feature some of the most popular characters or personalities that year. Elies Miró, president of the Bakers Guild of Barcelona, told the Catalan News Agency in April that Barça Femení star Alexia Putellas has replaced Lionel Messi as the most popular footballer to top the cakes, especially after her Ballon d'Or win last winter. Alexia has become such a star of this team that her image is postered up on the exterior walls of the Camp Nou, alongside the superstars from the men's team.
15,000 travel to Italy
More and more people are watching Barça Femení's games, but as well as that, more and more are now travelling to them too. Despite losing the Champions League final 3-1 to Lyon, the day will be remembered forever, as 15,000 fans traveled to Italy to support the team.
For one fan, Noemí, it was her first trip to see Barça Femení in a final, and she was one of the many fans who waited for the team bus to arrive at the ground. Despite it being "incredibly hot" she says, it was well worth the wait, and overall a journey that she will never forget.
Another fan, Marta, told Catalan News that the "connection between the fans and the team" is "special," something that with the men's team would be "unthinkable."
Oriol, who also made the journey from Catalonia to Italy, completes shares this sense of connection between the supporters and the team. "I think it has something to do with the amateur origins of the sport" and how women's football has historically been treated, he ponders.
"What I feel when I see Barça Femení playing, or when I listen to any speech from Alexia Putellas, Aitana Bonmatí, or any other player, about women in sport is emotionally deep," Oriol continues. "They fight for winning a match, but they also fight to be treated [equally, in a way] no matter the gender."
The Champions League final was not only enjoyed by those who traveled to Italy for a mini-holiday. Almost 3,000 people packed into Plaça Catalunya in the center of Barcelona to watch the game in an atmospheric setting, as for the first time for a women's football match, a giant screen was erected in the city center to show the game.
Seeing so many fans at games is "amazing," Fridolina Rolfö says. "I love it, I'm getting motivated by seeing people in the stands, that they're cheering, it gives me even more energy."
Goalkeeper Sandra Paños is also hugely grateful for the support. She feels that the team's achievements are for the fans and that "without them, obviously it would be impossible to fill the stadiums."
She adds that the team "love that they come and cheer us on, we really enjoy it, and in the end playing football is for the fans."