FC Barcelona undefeated campaign reveals weakness of Spanish Handball League
FC Barcelona has already won the Spanish League Title, being undefeated so far this season, with 27 wins, without drawing or losing a single game. FC Barcelona handball team is on fire, but the league is not. No one knows this better than the Danish player Jesper Noddesbo, who shares the team with stars like Nikola Karabatic, Victor Tomás and Kiril Lazarov. Noddesbo came to the Catalan club in 2007 and has experienced how the sport and the club have changed over the last seven years in both good and bad ways.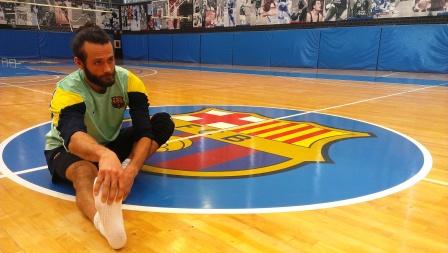 Barcelona (CNA).– 27 games and 27 victories, as well as the League title already won. This is how superior FC Barcelona Handball is in the Spanish Handball League this season. But with stars like Nikola Karabatic, Victor Tomás and Kiril Lazarov this is no wonder. On this list of great players we can find the Danish national player, Jesper Noddesbo. He came to FC Barcelona Handball in 2007 from the Danish club KIF Kolding and during those seven years, the pivot has experienced a lot of changes both in Spanish handball and at the club itself.
"When I came here in 2007 the League was much stronger than back in Denmark, but now it is the other way around. The Spanish League has dropped in level, mainly due to the economic crisis," the Dane says.
According to Noddesbo, Spanish handball clubs spent too much money before the crisis on creating teams with expensive players, but forgot to create a solid organization behind the teams.
"Handball is suffering from this now. I think at FC Barcelona we are bearing a heavy burden at this time to make a change, because we are carrying out a lot of new ideas like staying in the arena after a game and signing autographs, which we have never done before. All to create a hype about both the sport itself and the club," 33-year old Noddesbo explains and adds that people in the club have realized that it takes a lot of effort to fill up the arena with spectators.
"It is rare that the arena is sold out, and it's a shame because I think we have a really good product here. But everyone in the club are working hard to get more spectators," Jesper Noddesbo says.
Every player has the will to win
When taking a look at FC Barcelona Handball's results in the League you will see victories by 16, 18 and even 24 goals. The team is truly superior and especially this season after their biggest rivals BM Atletico Madrid had to close last year due to severe economic problems.
"I think is it a great achievement to win by 20 goals. That is not always easy. We could easily win by only six goals and be satisfied with that, but I think what characterizes our team at this point is the will to win – even though the games are not that hard, every player still has that determination."
Although the handball section already had a strong team with world class players last year, they did not stop there. At the beginning of this season the French national player Nikola Karabatic came to the Catalan club, and this impressed Jesper Noddesbo. He thinks FC Barcelona could have been satisfied by winning the Spanish League, but instead they pumped even more money into the handball section, bought new players and now they have a team strong enough to win the Champions League, in Noddesbo's opinion.
There is hope for the Spanish League
Even though Jesper Noddesbo thinks it is a shame that the Spanish league is struggling now, he also sees a positive side to it."This way Spanish handball can build itself back up again. All the young Spanish players now have a chance to play in the League. A few years ago they could not because of all the foreign players at the clubs. So I think Spain will continue to have a strong national league due to this possibility." Noddesbo stresses that he believes the Spanish League can get back on the right track, but it will take hard work. "There is still a long way to go. I think in about three years, we will see a positive change. It looks hard right now, but I know that the clubs are working hard to make a change, and that is what matters," Noddesbo says.