Catalonia imposes new restrictions in 'last chance' to avoid total lockdown
Measures in Barcelona metro area and other regions for 15 days from Saturday at 9 am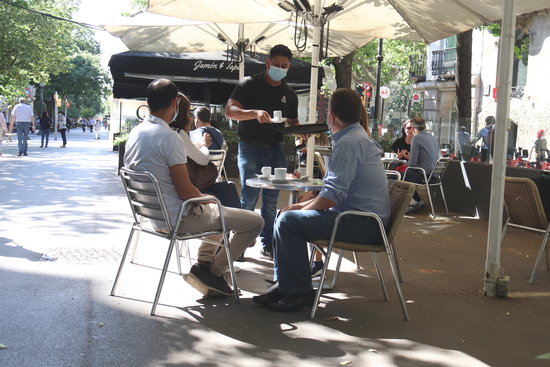 The Catalan government has announced a string of new lockdown measures to avoid the spread of coronavirus, warning citizens that "it's our last chance" to avoid a "total lockdown."
Confinement measures such as a 50% capacity limit for bars and restaurants, as well as the closure of cinemas, theaters, and other spaces open to the public, will be extended to the city of Barcelona and its metropolitan area, as well as parts of the Segrià and Noguera counties.
Appointments will also be needed to shop at stores providing non-essential goods but libraries and museums will remain open for now and children's summer camps will still be running.
🔴 NOVA SITUACIÓ a municipis metropolitans, La Noguera i Segrià (excepte 7 municipis amb més restriccions) pic.twitter.com/ImmmIQ05V3

— Protecció civil (@emergenciescat) July 17, 2020
Health minister Alba Vergés also announced a ban on social gatherings of more than ten people, calling them "the main source of transmission."
All of these measures will come into effect on Saturday at 9 am and last for 15 days as they were approved by a judge on Friday evening despite the public prosecutor's request that the ban on gatherings of over 10 people be rejected.
In the Barcelona area, new restrictions will be applicable in El Prat de Llobregat, Sant Joan Despí, Sant Boi de Llobregat, Cornellà, Viladecans, Esplugues, L'Hospitalet, Montcada i Reixac, Santa Coloma de Gramenet, Sant Adrià del Besòs, Badalona, and Barcelona itself.
Along with the new restrictions, the Catalan government also called on people living in the aforementioned areas to avoid leaving home unless necessary, warning that "if cases continue to rise more drastic measures will be enforced."
Mayor asks for Barcelona exceptions
Barcelona mayor Ada Colau has applauded the Catalan government's new restrictions in her city but also asked, on Friday, that events including Festival Grec, Cruïlla XXS, les Nits del Fòrum and Sala Barcelona still be allowed to take place. Les Nits del Fòrum has since announced that it would be suspending concerts for 15 days.
Colau did criticize the Catalan authorities, however, for putting in place Covid-curbing measures in Segrià county and the Barcelona metropolitan area too late, including not hiring new contact tracers to efficiently track transmission chains soon enough.
Concerts, beaches and markets
Cultural activities, such as concerts, in all municipalities with new Covid-19 restrictions will require authorization from Civil Protection to go ahead, as the Barcelona mayor had asked.
In addition to this, Civil Protection has decided to keep beaches and open-air markets open to the public but calls on local councils to regulate opening hours at bars to ensure they close at night.
On Sunday, the Barcelona city council announced that it would be canceling Grec festival from Monday, would close all cultural and sports centers, and would be asking Civil Protection for "common-sense exceptions."