Barcelona remembers Olympics 30 years on with show reliving key moments
Parts of opening and closing ceremonies screened and performance of 'Barcelona' anthem featured in emotional event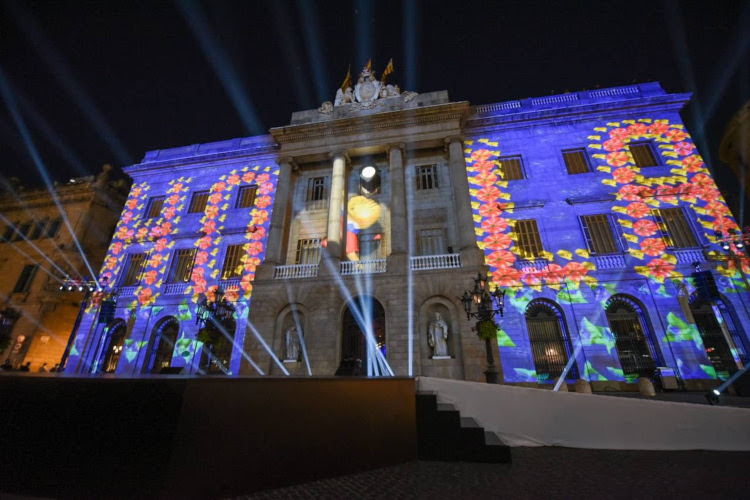 There was no better way to remember the event that changed the Catalan capital forever 30 years ago than the performance of the song 'Barcelona,' stirring the emotions of the hundreds in attendance at the event on Thursday evening as well as the thousands more who watched the show on TV3, Catalonia's public broadcaster.
Artists María Hinojosa and Manu Guix played Montserrat Caballé and Freddie Mercury at the city's Plaça Sant Jaume to sing the 1992 Olympic Games' anthem, composed by the charismatic leader of legendary rock band Queen.
This was the climax of a half-hour-long show that also included a performance of 'Amigos para siempre' (Friends forever) by Beth Rodergas, Jofre Bardagí, and the band Los Manolos, who originally played it at the closing ceremony three decades ago.
A light projection onto the city hall building recounted parts of the opening and closing ceremonies, as well as some of the biggest sporting feats and the city's transformation in the run-up of the Games, including the creation of beaches, ring-roads, and various sporting venues to host Games.
Another epic moment of the global sporting event relived on Thursday was the lighting of the cauldron with an arrow by Paralympic archer Antonio Rebollo, as well as other elements that built up the hype such as the iconic mascot, Cobi, and the thousands of volunteers who contributed to the organization.
From 1992 'unity' to failed 2030 Winter Games project
Earlier in the evening, an institutional event was held, where leading figures of the project were remembered, including the city mayor at the time, Pasqual Maragall.
One of his successors, the current head of the local government, Ada Colau, said that "on July 25, 1992, Barcelona said 'hello' and millions of people worldwide who discovered the city, the country, and the Mediterranean way of life. The opening ceremony began with the choreography of hundreds of dancers creating the message 'hola' (for 'hello') with the crowds chanting the same word.
"The result brightened the world," Colau added.
Catalan president Pere Aragonès said that the 1992 Olympics "filled both Barcelona residents and the Catalan people with self-esteem," highlighting the "alliance" between citizens and institutions.
The Spanish Olympic Committee's president, Alejandro Blanco, said the event was the result of "everyone's unity" and hoped the city can host another such event, referring to the failed 2030 Winter Games.
"We hope in 30 years we celebrate the 60th anniversary of Barcelona '92 and also the anniversary of the 2030 or 2034 Games," Blanco added, although his organization recently ruled out a bid for 2030 after discrepancies on the territorial distribution of events between Catalonia and its neighboring region, Aragon.