Barça Femení aim for record-breaking attendance at clásico showdown
First round of tickets for Champions League quarter-final in Camp Nou sold out within four days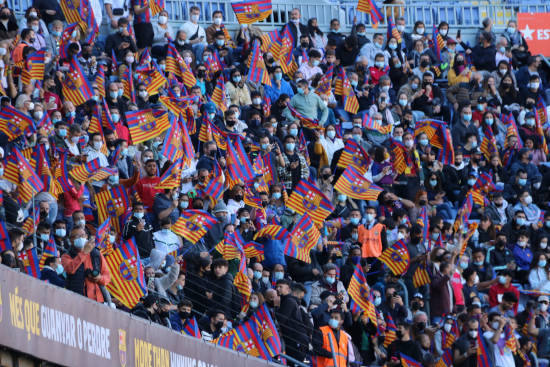 Among the many records smashed by Barça Femení in recent seasons – from dazzlingly high points totals, goals scored and conceded, and claiming the league title this season with a perfect record so far of 25 wins from 25 games played – another special night awaits them on Wednesday with a very different record on the line to be broken.
The Champions League quarter-final second leg against Real Madrid (kickoff 18:45) will be the first time that FC Barcelona's women's team play in front of a crowd at the 99,354-capacity Camp Nou stadium.
Such is the excitement around this team in recent years that the first round of tickets, offered at very reasonable prices, sold out within four days. Since then, some more tickets have been made available, and by 10 am on Wednesday morning there are still a handful remaining on offer on the Barcelona website.
Barça are aiming for this game to break the world record for the highest attendance at an official women's football match ever and will do so if Wednesday's rainy conditions don't put enough people off the idea of attending. Club president Joan Laporta urged any fan with a ticket who may be considering not attending to offer their seat to somebody else, in a bid to keep on track for the world record.
The previous record at an official game saw 90,185 people watch the United States beat China in the 1999 Women's World Cup Final in the Rose Bowl Stadium in California.
However, unofficially, the record could be as high as 110,000, as that's the estimated crowd to pack into the Estadio Azteca in Mexico City to watch the 1971 Women's World Cup Final, in which Denmark beat the hosts 3-0. This tournament wasn't officially recognised by football's authorities though, and as such the attendance doesn't count in the official standings.
The blaugrana take a 3-1 lead into the second leg, where they will be hoping to seal their passage into the semi-finals in front of a record crowd. Madrid are a team only recently established, built to take on their Catalan rivals, and while they've still not yet managed to earn a result against Barcelona, las blancas have been improving in their performances game by game.
Madrid gave Barça a scare in the first leg, even taking a 1-0 lead into the dressing rooms at halftime before a brace from Ballon d'Or winner Alexia Putellas and another strike from Claudia Pina set the defending champions on their way.
In their most recent meeting in Catalonia, Barcelona put Madrid to the sword and earned a 5-0 victory in mid-March in a game that clinched Jonatan Giráldez's side the league title.