Andrés Iniesta wins Golden Foot 2014, recognising the world's best active footballer aged over 28 years
The FC Barcelona midfielder Andres Iniesta has won the Golden Foot 2014. Iniesta collected the award ahead of nine other active footballers aged 28 or over to become the first Barça player to ever win an accolade that has been awarded annually since 2003. He collected the trophy at a gala on Monday evening held in Monaco, where he was joined by FC Barcelona's Director of Football, Andoni Zubizarreta; his wife, Anna Ortiz; his agent, Ramon Sostres and Joel Borràs of Mediabase Sports. Anyone could vote for the winner in an Internet poll that this year has put Iniesta ahead of nine other nominees: Cristiano Ronaldo, Wayne Rooney, Manuel Neuer, Andrea Pirlo, Thiago Silva, Franck Ribéry, former FCB men Touré Yaya and Thierry Henry, and Brazilian women's footballer Marta Vieira Da Silva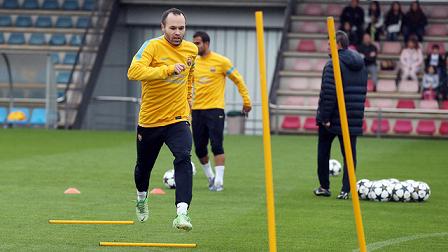 Barcelona (FCB).- The FC Barcelona midfielder Andres Iniesta has won the Golden Foot 2014. Iniesta collected the award ahead of nine other active footballers aged 28 or over to become the first Barça player to ever win an accolade that has been awarded annually since 2003. He collected the trophy at a gala on Monday evening held in Monaco, where he was joined by FC Barcelona's Director of Football, Andoni Zubizarreta; his wife, Anna Ortiz; his agent, Ramon Sostres and Joel Borràs of Mediabase Sports.
Anyone could vote for the winner in an Internet poll that this year has put Iniesta ahead of nine other nominees: Cristiano Ronaldo, Wayne Rooney, Manuel Neuer, Andrea Pirlo, Thiago Silva, Franck Ribéry, former FCB men Touré Yaya and Thierry Henry, and Brazilian women's footballer Marta Vieira Da Silva. The finalists were chosen by a panel of journalists, their decision being based both on both achievement and personality. A player can only win the title once, and part of the honour involves leaving their footprint on the 'Champions parade' on the Monaco seafront.
Iniesta will be back for training on Tuesday morning along with the rest of the players that have just been away on duty for Spain under Vicente del Bosque, namely Gerard Piqué, Marc Bartra, Jordi Alba, Sergio Busquets and Pedro Rodríguez.
Previous winners
2003 Roberto Baggio
2004 Pavel Nedved
2005 Andriy Xevtxenko
2006 Ronaldo
2007 Alessandro del Piero
2008 Roberto Carlos
2009 Ronaldinho
2010 Francesco Totti
2011 Ryan Giggs
2012 Zlatan Ibrahimovic
2013 Didier Drogba
2014 Andrés Iniesta