Youth denies attacking police during Madrid protest against Catalan trial sentence
Facing a 6-year sentence, 23-year old Dani Gallardo refutes taking part in demonstrations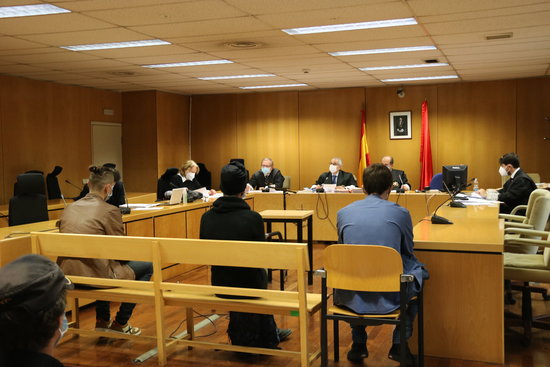 Dani Gallardo, a 23-year old accused of attacking a police officer during a pro-independence protest in Madrid who has been held in detention for over a year and could face a six-year sentence, has refuted all accusations at his trial which began on Friday.
Prosecutors accuse him of beating police officers during one of the demonstrations that erupted in October 2019 after Catalan leaders were convicted of sedition for calling a referendum on independence two years earlier, attempting to separate from Spain.
Gallardo denies taking part in the protests and says he was having a drink with a friend when they suddenly found themselves surrounded by agents.
"I'd rather be beaten up myself than her," he told the judge in Madrid's regional court, alleging that he used his body as a human shield to protect his friend.
Gallardo also denied using sticks to attack officers or being a member of any radical group, as accusations suggest.
13 people added to highway block investigation
Thirteen more individuals were added to the investigation into Tsunami Democràtic's block of the main highway with France from November 11-12, 2019.
The protest group brought over a thousand people to the AP-7 highway near the French border last year to protest against the sentencing of Catalan independence leaders to jail terms of 9-13 years for organizing the 2017 referendum.
Over 200 people were already being investigated for the demonstrations, and the thirteen added to the case have declined to comment.
The Solidarity Alert group have expressed regret that the case remains open, denouncing it as a "political issue."
In addition, they also criticized that the investigated had to give their statements in person rather than via video call in the midst of the pandemic.
The lawyer for two of the people investigated for taking part in the highway cut, Jonathan Cortijo, said they are "very calm" because in his opinion no criminal action has been taken.
About thirty people gathered in front of the court in Figueres, northern Catalonia, on Friday in support of the thirteen summoned to testify.
Various trials following independence push
Following the 2017 push for independence in Catalonia, many various trials have ensued. The most high-profile of which saw nine political and social leaders sentenced for sedition, including the former vice president Oriol Junqueras and some ministers at the time.
For a comprehensive list of all of the court cases that have come about from the 2017 referendum and the protests following the sentencing of the political and social leaders, you can check this article.