Works begin on Eixample superblock, prioritizing 'health' and 'comfort'
Barcelona deputy mayor urges Catalan and Spanish governments to strengthen public transport and give people service "they deserve"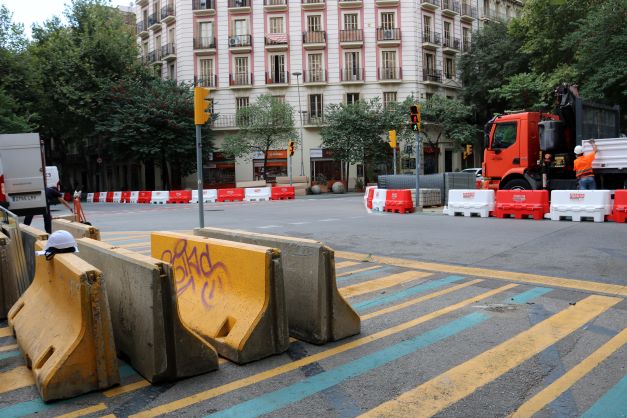 Works have started on a new superblock in the Eixample district of Barcelona on Tuesday that the city council hopes will transform the city into a more "comfortable place to live."
The works will see new green spaces created at the intersections of the roads Consell de Cent, Girona, Rocafort, and Comte Borrell, as well as the first four squares.
The deputy mayor of Barcelona for ecology, urbanism, infrastructure and mobility, Janet Sanz, explained to reporters on Tuesday that the aim of the project is to "recover a model that prioritizes health." She also took the opportunity to ask the Catalan and Spanish governments to "do their homework" when it comes to strengthening all public transport to offer people the service they "deserve."
Superblocks, or 'superilles' as they are referred to in Catalan, are pedestrianized squares where there was once heavy traffic but are now welcoming to relax and socialize in.
As Sanz explained, the project is aimed at facing the "challenges of the 21st century," and she claimed that the Eixample superblock will mark "a before and an after in the way of making a city."
"It is not healthy that 350,000 cars pass through the city center every day and that public space is shut down by these vehicles, occupying between 60 and 70%" of the space, the deputy mayor said.
Sanz, who is a member of Ada Colau's left-wing En Comú party, allied with the junior coalition member of the Spanish government, Podemos, insisted on the need to address the challenges of sustainability and climate emergency, transforming the streets with different materials.
Amid the summer heatwaves, she pointed out that these green spaces can be "a refuge" and that "next summer will be different, more livable, greener, with more water and more shade."
According to the council, the change will imply 58,000 square meters of public space being recovered for pedestrians. The squares of the superblocks will be spaces of around 2,000 square meters where greenery, permeable pavements, and children's play areas will feature significantly.
The works have begun simultaneously at different points of the four streets being transformed. In total, a dozen teams have been hired to work on the different sections. On the affected roads, vehicles will only be able to travel in one lane.
The local council has collected opinions from neighbors in the area, taking various requests and recommendations into account to "improve participation," although Sanz admitted the plan is "not compatible" with those who want cars on these streets.