Wildfire in Costa Brava under control after two days
415 hectares burnt, mostly affecting forests in Cap de Creus natural park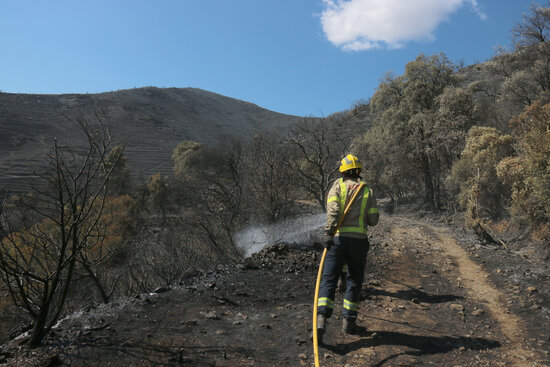 The wildfire in the northernmost part of Costa Brava is now officially under control after burning for almost two days.
On Sunday evening, the firefighters confirmed the news after the flames burnt 415 hectares, mostly forests – 402 of them is inside the Cap de Creus iconic natural park. This entails popular sites such as Cadaqués, Portlligat and the Sant Pere de Rodes monastery – a UNESCO heritage site
The fire engines working on the site had reduced from 90 to 55 – 155 firefighters – over the day.
Firefighter Santi Lleonart said to the press that they expect a "much more favorable" situation at the end of the day.
During the night, the northern winds had diminished, which has helped professionals to make progress.
Over the past two days, water over a line of 12 kilometers was dropped, and the technique of firebreak was used along two kilometers.
Hundreds evacuated or confined
All of those evacuated in several residential areas have been allowed to return home, including those living in La Selva de Mar, who had been confined for two days.
"The wind is still blowing and the perimeter is so unstable that the flames could reignite," said firefighter Santi Lleonart in the morning. Yet, during the day, the situation remained under control.
All roads have already reopened, except for GI-6041.
Trying to find out author of 'negligence'
The natural disaster declared in the town of Llançà is thought to be caused by a cigarette butt that was found in the site where the fire began.
Rural officers head Josep Antoni Mur said it will be difficult to find DNA in the butt in order to know dropped it, but added that authorities will do their best to find it out.
For him, it is "very likely" that the cigarette was thrown from a car, since the butt was found just outside the tarmac.
For the Catalan interior minister, Joan Ignasi Elena, having to fight a wildfire "due to a possible negligence is outrageous."
Professionals injured
Four firefighters and a member of a Forest Defense Group ADF were injured while attempting to put out the flames.