Wild boars: Catalonia's growing feral pig problem
Catalan government to declare "hunting emergency" in early 2023 to tackle overpopulation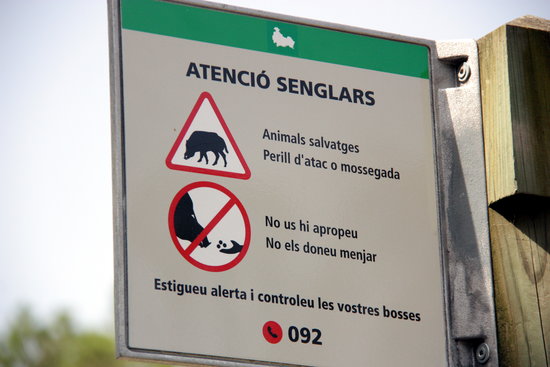 We all saw the viral videos of wild boars roaming the streets of Barcelona during lockdown, and who hasn't heard of Shakira's feral pig encounter? Does this mean they've gone mad? Are they now reclaiming land they believe is rightfully theirs??
There are at least 200,000 wild boars in Catalonia, a figure that has more than doubled over the last decade despite hunting campaigns that kill around 70,000 per year. Most of these creatures can be found in the Barcelona and Girona areas.
Why are there so many boars?
While there are many factors behind this exponential growth, from them breeding with abandoned Vietnamese pot-bellied pigs to them no longer having any natural predators, "the most relevant has been the expansion of irrigated land," says population ecologist and University of Barcelona PhD researcher Jaume Badia.
In an interview with Catalan News, the scientist explained that this method of farming has become more commonplace despite Catalonia's dry Mediterranean climate. "Because it is more productive, at the same time this is a double edged sword because the farmer gets more production, gets more money, but at the same time the wild boars get more food."
More boars, more problems
More boars means more run-ins with people, something those who live in the Barcelona area's mountainous Collserola neighborhoods are now very familiar with.
But this didn't use to be the case. Joan Pere, a 61-year-old Vallvidrera resident and former baker, told Catalan News he used to go on delivery routes in the neighborhood. "Before you wouldn't see them," he said, adding that "if you did see a boar you'd throw a party."
Sveta, who lives near Baixador de Vallvidrera, told Catalan News she sees them all the time, but only once have they accosted her. "I was sitting at the bus stop, waiting for the bus, and a young boar came and tried to grab my bag," she said. "He didn't succeed, he just covered me in dirt."
Sveta, like members of the local Sanatori neighborhood association near Les Planes, are not in favor of hunting boars to keep their numbers in check. Jesus Escardó, a spokesperson for the group, explained that while they understand this is pricier, they believe that "at this point in the 21st century, it is an issue that could be solved."
In 2021, boars were involved in 3,000 traffic accidents. They've also become a nuisance to farmers, as these hungry animals have developed a taste for especially corn, barley and fruit crops.
"They eat what we make a living off of," Ramon Comes, a farmer from the small western Catalonia town of Corbins, complained. And because farmers work with narrow profit margins, this can be a significant blow to business. "We can't have this because if we harvest less we earn a lot less but have spent the same amount of money."
Population control
Population control measures come in the form of hunting, sterilization campaigns and restricting their access to food. But each comes with complications: there are few hunters and many people against the practice; sterilization requires a great amount of resources; and keeping them out of crops - or even garbage bins sometimes - can be hit or miss.
According to Badia, the solution should be threefold, because "hunting alone will not reduce the problem." Meanwhile, environmental groups and the Barcelona Bar Association have all advocated for sterilization, something the Autonomous University of Barcelona has been testing in select areas.
Catalan government action plan
Catalan authorities have announced a wild boar action plan to tackle overpopulation.
"We are working to declare a 'hunting emergency' early next year that will allow us to act on the scene," Anna Sanitjas, an environmental management official for the Catalan government, told Catalan News.
They also plan to train what they'll call "expert hunters" and will provide further financial support to people who have been affected by boars.