Weekend social life drops due to new restrictions but 1,000 people reported in one day
Far-right groups violence on the rise after being deemed as 'opportunist' to mingle in Covid-related protests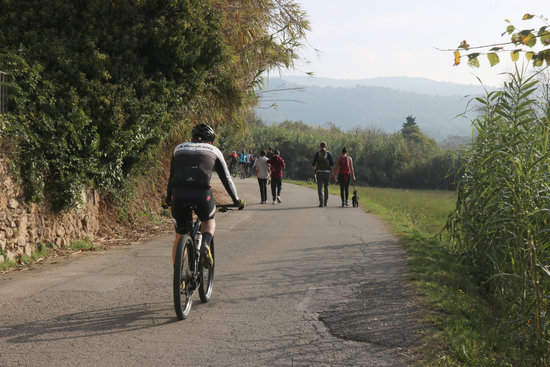 The latest Covid-19 measures seem to be having an effect to reduce the social life in Catalonia.
On Saturday and until 6.30pm, 68,218 vehicles had left Barcelona's metropolitan area, which means a 73% drop compared to Saturday, October 3, and 76% less vehicles than the equivalent date in 2019.
Likewise, those entering the metropolitan area (69,536) were also over 70% less than the same dates, according to official traffic authority data.
From Friday at 6 am to Monday at 6 am, people are not allowed to leave the town or city they reside in. They can still leave home, but the government advises against doing so.
Elsewhere, in the city of Girona, northern Catalonia, road traffic also significantly decreased – but the fact that the partial weekend lockdown includes doing sport in bordering towns saw a number of people in greenways and paths around Girona.
For instance, the trail towards Sant Miquel castle welcomed dozens of trekkers and riders, as well as the 'carrilet' route in Quart and the 'Hortes de Salt' green area.
A lower number of people was also seen in Catalan cemeteries – while November 1, All Saints' Day, is a popular day to visit deceased relatives, some cemeteries have restricted visits and the crowds of other years have not been seen.
Skipping new regulations especially at night
Yet, the Catalan police spotted hundreds of people skipping the new regulations only on Saturday.
The Mossos d'Esquadra reported 1,139 people across the country between Saturday morning and Sunday morning, and half of them at night.
"We imposed 278 penalties for skipping the night curfew and 142 more for not wearing face mask," said on Sunday the director general of the police, Pere Ferrer.
The local police in the biggest towns in Catalonia also monitor the compliance of the regulations – on Saturday evening, Barcelona's Guàrdia Urbana dismantled a Halloween party, with 25 people arrested, and music equipment and drugs confiscated. Social gatherings of over six are banned.
Increase of far-right violence
Part of the law enforcement officers' work in the past couple of days has been the increase of far-right violence.
On Saturday, a demonstration that began to protest against the eviction of an occupied house in central Barcelona ended up in altercations, with presence of the far right – it ended up with a person arrested and 60 more identified.
On Friday, a rally against the latest Covid-19 limitations was the field were violent people rioted and looted shops, with 30 injured and 14 arrested – Barcelona's local council will take a graffiti reading 'Fuck Jewish' made during the events to the prosecutor's office.
According to Ferrer, in the past few days there has been "opportunism" of far-right people who mingle in protests to create altercations.
On Thursday, a protest against the night curfew descended into ten trash cans burned down and 19 arrested, and on Saturday a group of youngsters lit on fire 17 trash cans and a vehicle, with four of them ended up arrested.