Unseasonable high-risk of wildfire comes to an end after three significant blazes
Very high temperatures, low humidity, drought and wind cause unusually early wave of fires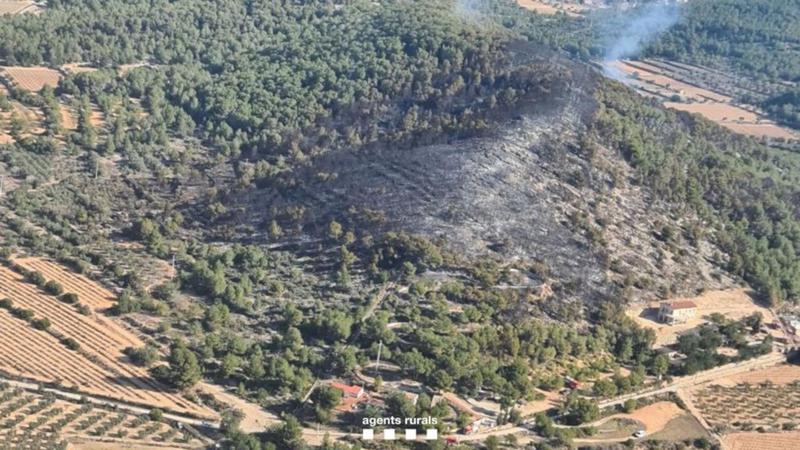 Catalonia's rural officers have lowered the Alfa Plan from Level 2 to Level 1, which means that on Friday they lifted the high/very high risk alert of wildfires, but kept a moderate/high one.
Officers said that weather conditions were less prone to wildfires on Friday after a week with several factors unusual for this time of year that increased the risk of blazes, including unusually high temperatures, low relative humidity, and significantly high winds, as well as the effects of the ongoing drought on vegetation.
The Alfa Level 2 protocol was activated on March 10 and came to an end a week later after several wildfires were seen across Catalonia, including three significant ones.
Between this Tuesday and Wednesday, flames swept around 24 hectares in Calafell, a seaside town 65 km south of Barcelona, and some locals had to be evacuated. A local court is investigating whether that blaze was caused by a medium voltage electricity cable.
On the same days, another wildfire spread across 20 hectares of land in the Selva del Camp area, near Tarragona in the south of Catalonia, and it's thought that the burning of some vegetation may have caused that incident.
On Thursday, another fire broke out in Canejan, in the westernmost part of the Catalan Pyrenees, in Val d'Aran. Around 100 hectares were burned as of Friday morning and the firefighters were still working to put it out – there is no risk of flames reaching any home as officers have already stabilize it.
Minor fires have also burned in Masquefa, El Perelló, and Cubelles in the past few days.
Rural officers kept Level 1 of the Alfa plan for 13 out of the 42 counties in Catalonia on Friday.