'Things not going well,' health authorities say as targeted mass screenings intensify
Covid-19 cases rising as new academic year looms with uncertainty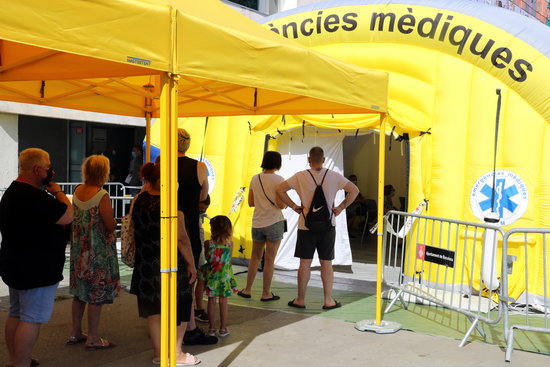 The Catalan and Spanish health authorities are increasingly concerned about the progression of the Covid-19 pandemic, as targeted mass screenings intensify.
They made it clear in separate press conferences on Thursday evening, where they asked the population to respond to the rise in cases.
Spain's health emergencies director, Fernando Simón, warned that "things are not going well" and argued that "every day" there are more transmissions.
"If we continue letting transmissions go up, we will end up having a lot of hospitalizations," he added. "May no one get confused, we cannot let this continue and we have to be very aware of what we have to do."
Simón urged the population in Spain to "begin to take it very, very seriously again."
He also admitted that the average age of the new diagnoses is lower than in the spring, with the average at 38 in both Spain and Catalonia, something that lowers the risk of hospitalization and death.
In the past few weeks only 4% of those with Covid-19 end up in hospital, and 0.4% of the total die.
Yet, Simón said that if the epidemic continues spreading, "a lot of people" will end up in hospital.
According to him, there are now 1,126 active outbreaks in Spain, and 40% of them are related to social life. The Catalan authorities recently launched several measures focused on nightlife.
'A mature society should be able to react'
In the same vein, Catalonia's public health secretary, Josep Maria Argimon, called for "responsibility" from the population and reduce social interaction as much as possible.
For him, washing hands, social distancing, and wearing face masks are no longer enough, and social life needs to go down. "A mature society should be able to react," he added.
In order to prevent the spread of Covid-19 where transmissions are increasing the most, the Catalan health department has been intensifying the targeted mass screenings that began in early August.
Mass PCR tests are taking place in the Torrassa and Collblanc neighborhoods of L'Hospitalet de Llobregat, the second most populated city in Catalonia, as well as in Granollers, Balaguer and other municipalities.
Schools to open on September 14 with uncertainty
The progression of the epidemic continues as the beginning of the upcoming academic year looms.
Schools are set to open again on September 14, and the protocol in Catalonia presented last week provides that lessons will be in-person for all students, and face masks not compulsory during class.
Yet, with the constantly evolving situation, the protocol for schools will be reviewed in the coming days – the Catalan education minister said on Thursday that face masks might be inevitable in some centers when classes begin.
Fernando Simón said also on Thursday that "an effort to open schools" needs to be done.