The future is now: sci-fi innovations at the MWC
Humanoid robots and sensors to move objects with the mind just some of the latest developments at this year's congress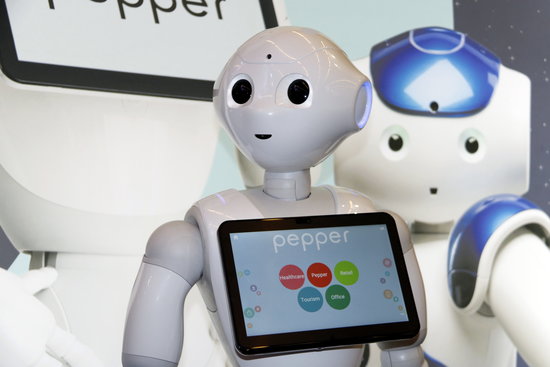 At the rate technology is developing, everyday what was once science fiction is a little closer to turning into science fact. Things such as robots and artificial intelligence once belonged exclusively in the imaginations of writers such as Isaac Asimov and Phillip K. Dick, but more and more they are becoming part of everyday modern life. New innovations are constantly being developed, and this year's Mobile World Congress in Barcelona is the perfect place to check some of them out.
Welcome to the future
Humanoid robots and sensors to move objects were just some of the latest releases to be introduced to the public at the NexTech pavilion, which is "the ultimate destination for next-generation technology," according to GSMA.
Amongst the displays of drones, virtual reality, cognitive computing, and artificial intelligence, the humanoid robot Pepper could be found. Designed by SoftBank Robotics, Pepper is capable of perceiving human emotions and is equipped with applications to assist clients, as well as acting as an information point for banks or shops.
Interacting with machines
"The robot has a natural and pleasant language, achieving an emotional connection with the client. It is very efficient at working with old and young people alike," explained the sales manager of SoftBank in northern Europe, Jonathan Boiria.
SoftBank is a leading Japanese company in the world of robotics, with its creations already working in hundreds of places throughout Japan, but also in European companies such as Carrefour where it helps customers choose wine.
The power of the mind
Telekinesis, the power of moving objects with the mind, was once a thing of fiction, but science is changing all that.
Developments in sensor technology was another high point at NexTech in this year's edition of the most important event in the mobile world. One such innovation was a brain-machine interface designed by the Japanese multinational Hamamatsu. The device is based on photonic technology, the science of light generation.
The gadget allows people to move objects with their mind. But how? It uses the oxygenated haemoglobin generated by the brain during a thought process. This is picked up by a sensor which then moves the object accordingly. Once thinking ceases and the brain relaxes, the sensor sends a command to the machine moving the object to stop.
Thoughts racing
In order to showcase this futuristic technology, Hamamatsu set up a Scalextric track at its stand. Attendees could race cars, making them accelerate and decelerate using nothing more than their thoughts.
The spokesman of multinational, Victor Sánches, explained that the device has other functions, especially in the medical field. It allows the fast detection of the concentration in a patient's blood, making it useful in cardiac surgery. It can also be used in high performance sports training.