Teachers, medical professionals, and taxi drivers to strike on January 25 and 26
Workers plan to take to streets "to defend public services"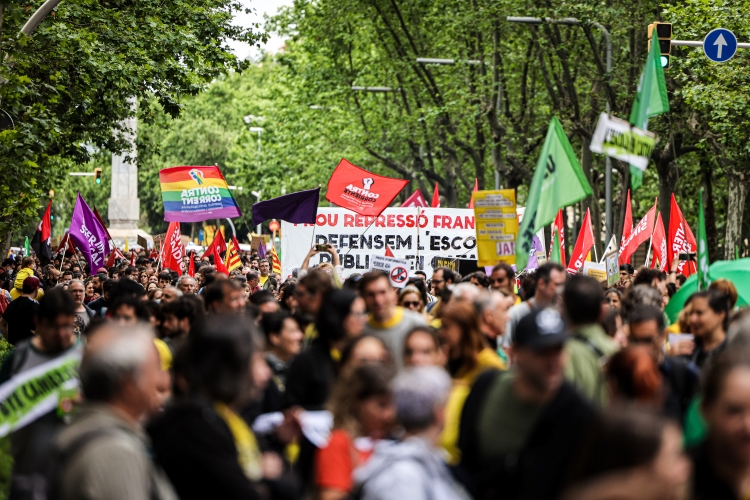 This week promises to be one marked by protests in Barcelona and other parts of Catalonia, with teachers, medical professionals, and taxi drivers calling for strikes on January 25 and 26.
Teachers
Teachers' unions including USTEC-STEs, CCOO, Intersindical-CSC, and UGT, will be holding demonstrations "to defend" the public education system and other public services, which they believe should receive at least 6% of the budget.
On January 25, teachers will gather at Barcelona's Plaça Sant Jaume at 11 am before going to Parliament, with buses coming from Manresa, Girona, Lleida, Reus, Tarragona, and Valls.
The following day there will be demonstrations organized across Catalonia, including in front of the education department headquarters in Barcelona at 12 pm, while on Saturday there will be another protest in the Catalan capital's Plaça Sant Jaume at 11 am.
Medical professionals
Metges de Catalunya, a union with 12,000 affiliated doctors that have long complained of a lack of resources and demanded improvements, especially following the pandemic, has two protests that are set to go forward this week if the ongoing talks with the health department fail to produce an agreement.
The first, on Wednesday, is due to start at 10 am in front of the Catalan health department headquarters on Travessera de les Corts, in Barcelona. From there, protesters will make their way to Plaça dels Països Catalans square outside the Estació de Sants train station at around 11 am, before putting on a performance symbolizing the brain drain the sector says it is experiencing.
The second, on Thursday, will begin at 10 am at Plaça Sant Jaume, the city center square that is home to both the Catalan government and Barcelona city council headquarters. At 11 am demonstrators will head to Parc de la Ciutadella to gather outside the Catalan parliament building.
The union has also announced partial stoppages from February 1 to 3 if they are not able to reach a deal with health authorities.
The Mesa Sindical de Sanitat group of unions, meanwhile, called off their January 25 and 26 strikes due to a formal error in their request that they say could have put workers' jobs at risk.
Taxi drivers
Barcelona's Elite Taxi group has called a strike on the first of the two-day teacher and medical professional protest as part of taxi drivers' ongoing quest against ride-hailing apps such as Free Now, Uber or Cabify, which they say are threatening the fixed fare system by introducing rates that vary according to demand or the weather.
They are also angry at Catalan government officials for issuing more private-hire vehicle (VTC) licenses than they would have liked, albeit with stricter requirements including a 15-minute wait period between ordering a cab and its arrival.
On Wednesday, just over a week after the sector's last slow-drive protest through the city center, drivers are expected to once again take to Gran Via avenue from 10 am to 2 pm.
They will also be going on strike from January 31 to February 3 coinciding with the ISE professional audiovisual fair that attracts thousands of visitors to Barcelona from around the globe.