Taxis block Barcelona city center to protest ride hailing industry
Cab strike to demand ratio of 30 to 1 between their taxis and those from apps such as Cabify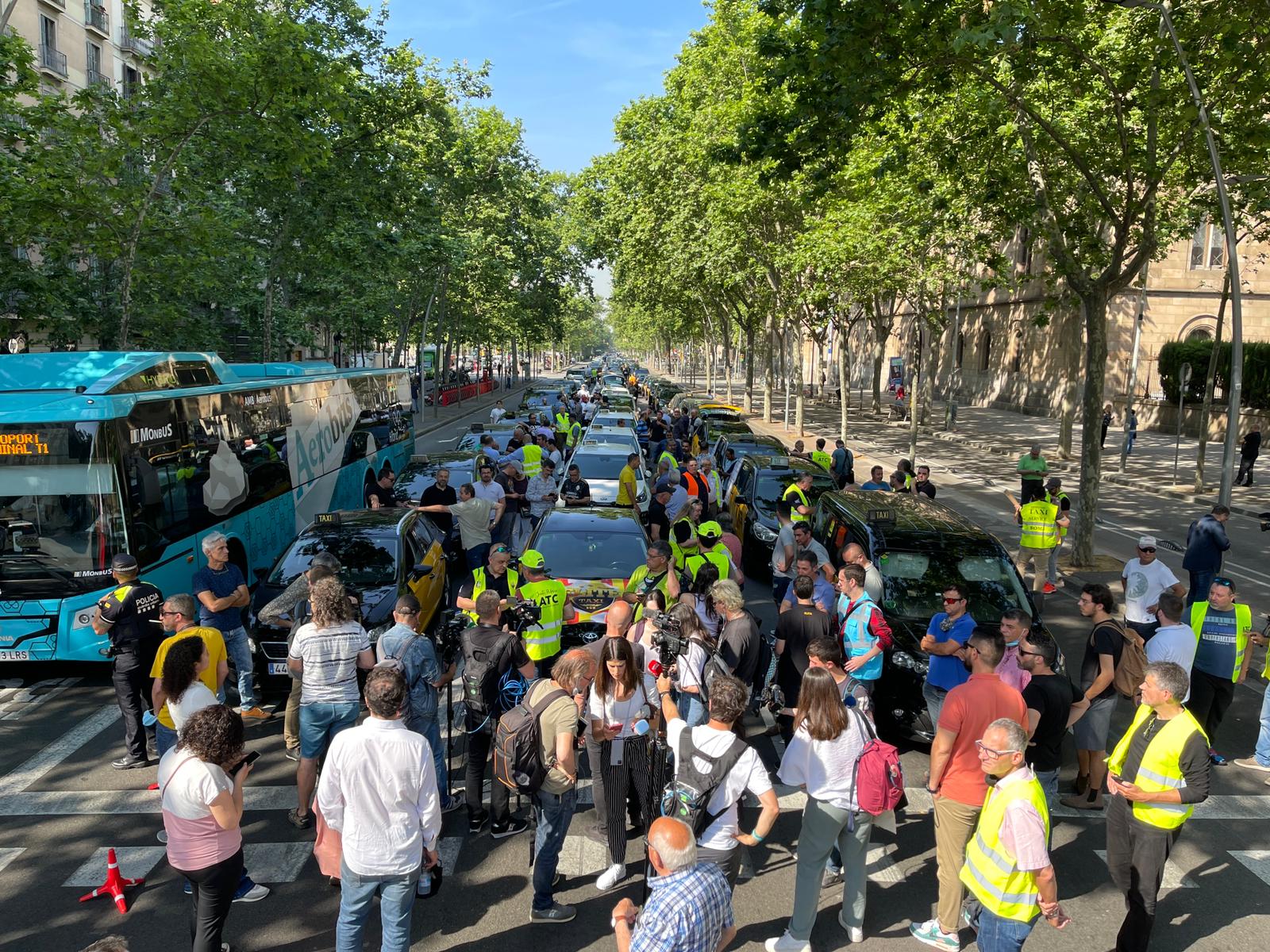 Taxi drivers took part in another
protest against the ride hailing industry
on Wednesday morning in Barcelona, when hundreds, possibly thousands, of cabs from all over Catalonia blocked off parts of the city center.
Many vehicles joined a slow drive protest on Barcelona's Gran Via, with cabs between Plaça Espanya square, near the city's south exit, and Balmes street, close to Plaça Catalunya. 4,000 taxis took part in the protest, according to organizers, while the city council said there were only 900 vehicles demonstrating.
They then drove from the city center in a northbound direction to where Gran Via and Passeig de Sant Joan meet, then to Ciutadella Park where the Catalan parliament is situated. Some of the spokespeople in the sector, including Tito Álvarez, will enter the chamber to speak with politicians before the demonstration ends at 2pm.
The move also includes a strike across Catalonia from 10am to 2pm, as unions and associations from all over the country participated in the rally in the capital. Drivers honked horns and blasted music, while taxi association representatives such as Álvarez shouted words of encouragement into a megaphone.
Talking to the media before the protest took place, Álvarez said called on Catalan parties to take sides in the issue.
"We think it is strange that left-wing and pro-independence parties, who always condemn Isabel Díaz Ayuso's politics [conservative Madrid region president], want to impose her model here," he said.
According to Elite Taxi and other associations, protecting Catalonia's taxis is akin to protecting the public sector in the face of neo-liberal privatization policies that they believe worsen both working conditions and the quality of services provided.
Ratio of taxis to ride-hailing services
All taxi unions and associations want the ratio of
taxis to ride-hailing services
to be set at
30 to 1
. The Catalan government is drafting a bill to regulate the sector as the Spanish government's 4-year moratorium permitting companies like
Uber or Cabify
operate will soon be up.
Ride-hailing apps will, in theory, no longer be allowed in urban areas from September 29, 2022 when this moratorium expires, and by that date, the Catalan government must have regulate on the apps. Taxi drivers say they have gotten wind of negotiations to extend the deadline.
"[Junior Catalan coalition partner Junts] also wants [ride-hailing apps] to stay so they want to make a new permission to give licenses to work like a taxi in the city and we don't want this," Syed Junaid, an Elite Taxi member who has been driving cabs in Barcelona for the past eight years, told Catalan News. "We're not going to permit this."
Associations like Elite Taxi are lobbying to see the ratio of 1 ride hailing service per 30 taxis confirmed, as it was initially established by the Barcelona metropolitan area region. Yet, this measure was overruled by the Supreme Court and it is now up to the Catalan cabinet to decide how to proceed by September.
Have a listen to our Filling the Sink podcast published in June 2021 on the underlying standoff between taxis and ride hailing apps such as Uber or Cabify.