Taxi drivers protest ride-hailing platforms, blocking Barcelona's Gran Via
Cabs denounce "abuses" from likes of Uber, Cabify, and FreeNow but call off ISE strike to continue negotiating with authorities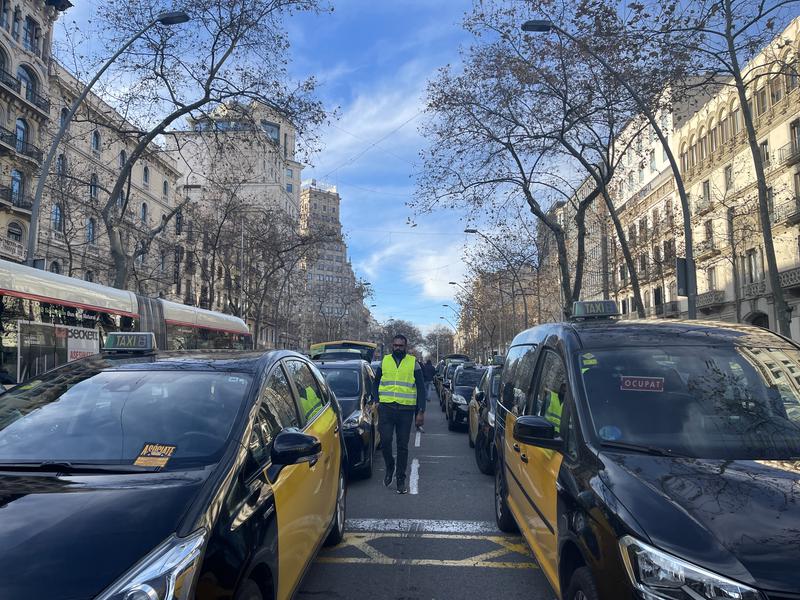 Taxi drivers are protesting in the center of Barcelona on Wednesday, blocking large parts of Gran Via, one of the city's main streets, from 10am to 2pm.
Taxis began filling up blocks closest to Carrer de Bailèn just before 10am, spreading from Tetuan towards Passeig de Gràcia. From around 10.45am taxis began to fill up Passeig de Gràcia.
Streets were blocked to general traffic, although buses were able to get by.
An assembly of taxi drivers from Élite Taxi, the group that called the protest, took place on the streets of Barcelona for all to discuss the latest proposal offered by the Catalan government. In the end, the cab drivers voted to call off the strike planned for the ISE audiovisual fair in order to allow negotiations to continue, but warn that the protest could still take place if there is no significant progress. They have not ruled out striking during the Mobile World Congress, which takes place at the end of February.
"Today we decided that we're going to give [the authorities] time until the Mobile World Congress," a taxi driver called Syed Junaid told Catalan News. "They have to make more controls and only give permission to the licenses that have permission to work in the city center. If not, we're going to go on strike indefinitely."
"It would be a shame for taxi drivers to give a bad impression on the city," ISE CEO Mike Blackman had previously said in an interview with the Catalan News Agency.
Blackman says he "sympathizes" with taxi drivers' demands, but asks them to "welcome ISE visitors" as "ambassadors" for the city and "make them feel comfortable."
Elite Taxi spokesperson Tito Álvarez warned: "We have reached our limit and have two very important world fairs coming up. The administration must put solutions in place now."
By 12.30pm, the taxi drivers began to move toward the Department of Territory, which oversees mobility policies, located in the Eixample area.
Demands and complaints
Hundreds of cab drivers are parking their vehicles on the road to denounce what they call "abuses" by ride-hailing platforms, claiming companies such as Uber, Cabify, Bolt and FreeNow do not comply with Catalan sector regulations.
The Elite Taxi union says such firms are threatening the fixed fare system by introducing rates that vary according to demand or the weather.
Oriol, a taxi driver, described his sector as "democratic" when speaking with Catalan News. "The price is right and does not depend on demand, which is how it works with big platforms."
They are also angry at Catalan government officials for issuing more private-hire vehicle (VTC) licenses than they would have liked, albeit with stricter requirements including a 15-minute wait period between ordering a cab and its arrival, and last week drivers already held a slow-drive protest through the city center because of the same complaints and demands.
Estonian company Bolt, meanwhile, issued a statement on Wednesday calling for a "quick and efficient" solution "for the common good." They argue that they too should be present in negotiations with the authorities, and not only "minority associations" like Élite Taxi, whose protests "impact residents' right to mobility, Barcelona's economy, and the future of thousands of self-employed people and small businesses."