Swastikas painted on pro-independence group HQ
Catalan government and politicians condemn the graffiti on Òmnium Cultural building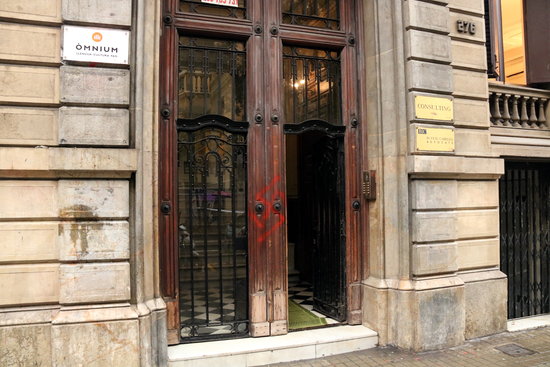 Members of pro-independence civil society group Òmnium Cultural arrived to the national headquarters of the organization on Monday to find its façade defaced with various red swastikas.
The vice president of the entity, Marcel Mauri, released a statement on Twitter saying that Òmnium will continue being deeply antifascist and committed to defending rights and freedoms, and "despite some people would like this, they'll never succeed in silencing our voice," added Mauri.
Politicians condemn the graffiti
Meanwhile, the Catalan government and representatives of various political parties condemned the Nazi symbol tags. The vice president of Catalonia, Pere Aragonès, meanwhile showed all his support to the group on Twitter: "We're proud to be enemies to fascism. They shall not pass!"
Former Catalan president in exile Carles Puigdemont meanwhile connected the graffiti to the fact that independence supporters "unmasked" those behind the symbols and showed their "authoritarian face" to the world.
One of the first to condemn the attack was head of the Socialist party Miquel Iceta, who spoke out against "actions meant to intimidate" the headquarters of the group, and stated that this deserves the repulsion of all those who consider themselves to be democratic.
Parliament speaker Roger Torrent also commented on the event, assuring that "before intolerance and trivialization, they will find an open society that loves freedom."
The main unionist party in the chamber, Ciutadans, also condemned the events.
Headquarters have been tagged before
This is not the first time that an organization headquarter has been the target of graffiti. Headquarters of pro-independence parties CUP and ERC in the town of Figueres were also painted with swastikas in December last year. The symbols were drawn alongside references to Article 155, the Spanish constitutional measure implemented following a declaration of independence to strip Catalonia of its self-rule, since then reversed. Meanwhile, the headquarters of unionist Ciutadans party was tagged with anti-Nazi symbols (a crossed-out swastika) a couple months prior.