Support for Valtonyc in Brussels after rapper's possible exile
Media reports state that musician has left the country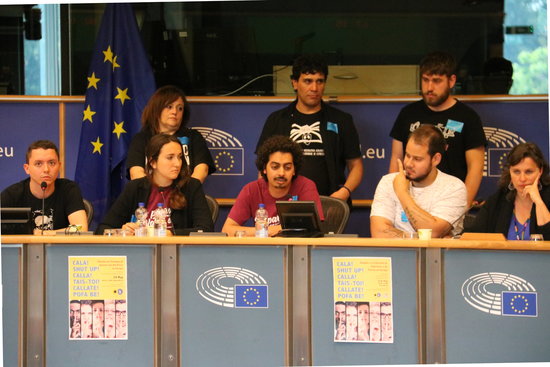 A group in support of rapper Valtonyc, convicted and set to enter prison today, has gathered at the European Parliament (EP) in Brussels to speak out against Spain's "attacks on freedom of expression." This, on the deadline for the musician to turn himself in to the authorities and begin his jail sentence, and amid media reports that he had left the country for that very reason.
Members of group "haven't known anything" for three weeks
At the time of the publication of this article, at the EP event organized by MEPs Jordi Solé, Josep Maria-Terricabras and Ana Miranda, members of the group admitted that they are not aware of Valtonyc's current whereabouts. Member Mulay Embarek explained that even people in the musician's closest circles, which include some members from the group "haven't known anything" of it for the past three weeks, not even whether he's "dead or alive."
Meanwhile, the also convicted rapper Pablo Hasel stated that he "deeply respects" the decision to go into exile, "if that's what Valtonyc decided to do." He categorized the rapper's possible decision to leave as akin to that of "other people persecuted for defending democratic rights." Hasel however explained that his "personal" decision has been to "stay in the Spanish state." Also attending the event in Brussels were deposed Catalan ministers currently residing in the city Lluís Puig and Toni Comín, both currently also nominated for the new Catalan cabinet.
Valtonyc last warned he would "not make it easy" for authorities
Valtonyc, whose real name is Josep Miquel Arenas Beltrán and is facing up to three and a half years behind bar for glorifying terrorism, slander and defamation against the crown over the content of his lyrics, said he would not go to prison voluntarily.
Some press reports not officially confirmed by the artist suggest he has left Spain and is currently in a different European country, following the example of Catalan pro-independence politicians who are currently fighting extradition in Belgium, Germany, Scotland and Switzerland.
On Wednesday, the convicted rapper warned that he would "not make it easy" for the Spanish authorities to put him in prison on the deadline to do so, arguing that "disobeying is legitimate and obligatory against a fascist state." The artist further stated on Twitter that in the next 24 hours authorities would have to "break down" his door to put him prison "over some songs." Later that night, in anticipation of the final day for Valtonyc to turn himself in, there was also a demonstration held in Barcelona in his support, which saw more than 200 people in attendance.
Valtonyc would be first musician sent to jail for lyrics in state
At the beginning of May, Spain's Constitutional Court dismissed the rapper's appeal against his conviction, with the National Court setting a deadline of 10 days for him to be locked up, a deadline that expires on May 24.
Supporters of Valtonyc have pointed out that if the rapper goes to prison he will become the first musician in Spain to do so because of his song lyrics. On June 17, a concert involving more than 40 performers from around Spain is planned to take place in the rapper's home of Mallorca to show solidarity with the artist. Meanwhile, Valtonyc's defense lawyer says he will call on the court to suspend his client's prison sentence while he refers his case to the European Court of Human Rights in Strasbourg. NGO Amnesty International also condemned the prison sentence in a recent report.