Summer night temperatures as high as ever, while sea 1.8C warmer than average
Barcelona hits 85 full days above 20C in 92-day season, and 31 above 25C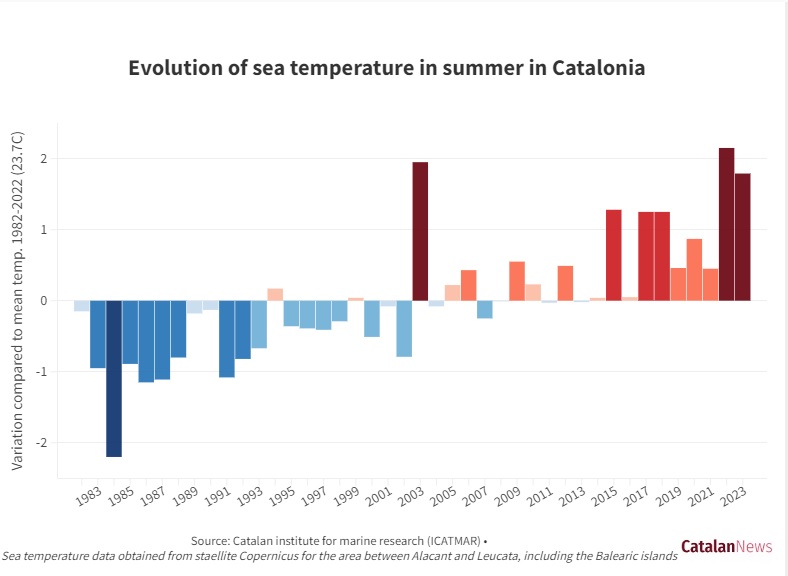 Summer night temperatures have been as high as ever in a number of Catalan municipalities. As the season came to a close on Saturday, Catalan News looked into the data gathered by the Catalan weather service (Meteocat) and found that its stations had never registered as many nights with values above 20C at all times, or above 25C.
The 184 weather stations in Meteocat's network observed a record-breaking 4,870 tropical nights – that is, nights with values never under 20C – altogether between June 21 and September 20. This surpasses the highest number until now, 3,967, seen in 2022.
This was especially an issue in coastal areas such as Barcelona county (Barcelonès), and the southern regions of Costa Daurada and Ebre river delta, as well as the northeastern town of Portbou.
Most stations had never seen such an amount of tropical nights in the period. For instance, in Tarragona, mercury did not fall below 20C at any time in 76 out of the 92 summer days. The same happened in Amposta (74), Alcanar (71), l'Aldea (70), Aldover (65), Cabrils and Vilanova i la Geltrú (64), as well as Cunit and l'Ametlla de Mar (60).
While Barcelona city did not register a record, set in 2018, it led the ranking of tropical nights this summer, with 85, and other coastal areas followed, such as Illa de Buda (80), Badalona (77), els Alfacs (74), Torredembarra (68), Portbou (63) i el Perelló (61).
In Catalonia's inland, traditionally less prone to high values at night, some towns also registered an unusual number of tropical nights, such as Granollers (55), Terrassa (41), Lleida (25) and Girona (14).
'Torrid nights': In Barcelona, thermometers stayed at 25C or above in a third of summer days
Thermometers across the country were especially sweltering in some of these nights, with more so-called 'torrid nights' – that is, nights with values never under 25C – than ever before.
In all stations altogether, 206 such nights were registered during summer, more than double than the highest figure until now, 98, set last year.
Indeed, in Barcelona, thermometers stayed at 25C or above in a third of the days.
Sea temperature above average, which damages species
Unusual warm temperatures across Catalonia, which saw its highest value ever registered at above 45C in the north on July 18, have also brought soaring values in the sea.
According to data provided by the Catalan institute for maritime research, Icatmar, the mean sea temperature between June and August in the areas surrounding the shores of Catalonia, Valencia region and the Balearic islands, was 25.5C this year. That is, 1.8C higher than the average between 1982 and 2022 and just cooler than in 2022 (25.9C) and in 2003 (25.6C).
By regions, the general steady increase of sea temperatures was also observed, with Barcelona, Tarragona, Ebre river delta and L'Estartit (in Costa Brava) hitting values above average, according to data by the authority ruling over Spain's main ports and a local observer, Josep Pascual.
Maritime heatwaves are "more and more frequent, intense and affecting a larger area," said Joaquim Garrabou, researcher at the Institute of Marine Sciences (ICM), to Catalan News.
The effects, he says, are already visible, with a higher mortality of species and transformation of the seafloor and a poorer biodiversity in the coast.
Corals, sponges and some families of algae are among the most badly affected species, since they cannot move. Garrabou states that when water heats up "two to five degrees" above average they cannot bear it and they suffer from necrosis or die.
"They are like trees in forests, if we lose them, this has an impact on the rest of companions and sea communities," he adds.