Students to join education strike in late January
Two days of demonstrations aim to reassert the importance of public school system and healthcare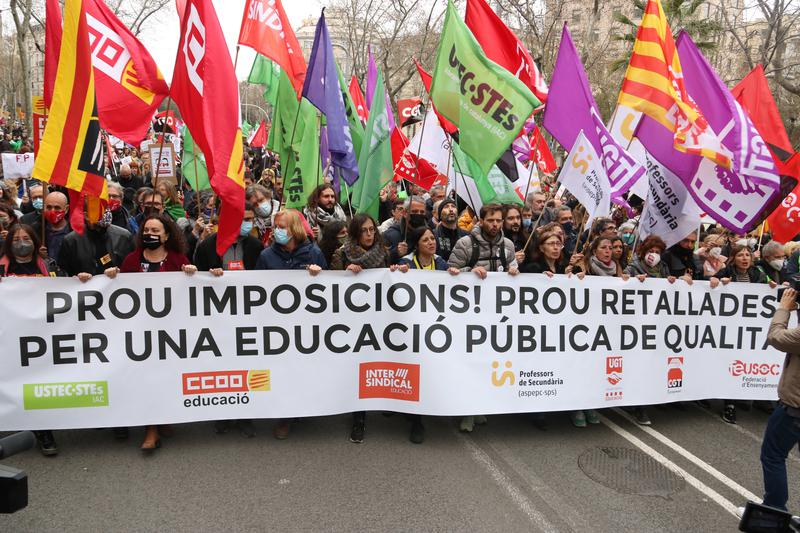 The Students Union – El Sindicat d'Estudiants – have announced they will join the strike action taking place in the education and health sectors on January 25 and 26.
They aim to use the days of demonstrations to reassert the importance of public health and education in Catalonia, and in a statement criticized that the situation in the public education system is becoming "unbearable."
They point to problems of overcrowded classrooms with no heating, a lack of teachers and places in professional training, and the cost of certain expenses at university.
The group accuses the government of maintaining public services in "deplorable" conditions and rejects that there is a lack of resources to meet their demands.
Additionally, another teachers union has also announced they will join the protest too. La Intersindical will strike alongside USTEC and now the Students Union to demand improvements to the education system in Catalonia.
La Intersindical slammed a "lack of commitment" from the department of education in trying to reach agreements with unions. They criticized authorities for not sending a firm proposal until December 14, one which they consider insufficient.
They also expressed disappointment that the next meeting is set for January 19, a date they see as an attempt to "delay" reaching a long-term deal that satisfies all parties.
Students' demands
The Students Union want to see a 100% free, quality public education in Catalan from kindergarten through to university and an investment of 7% of the GDP into the education system.
They also want a significant increase in the numbers of teaching staff to reduce ratios to 15 students per classroom, more public places in professional training, more psychologists and psychiatrists in primary care and hospitals as well as in schools.
Finally, they demand decent jobs and the nationalization of private healthcare and the pharmaceutical industry.
2022 demonstrations
Last year, thousands of teachers and students took the the streets in cities and towns across Catalonia to demand improvements in the education system. March saw five consecutive days of protests, while other strikes were seen in May and June.
There were scenes of tense confrontation in front of the department of education doors as some demanded that the education minister appear to speak with the crowd.
Those protests were called for a wide range of topics, from long-term budget cuts to the education system, changes in the curriculum and calendar, and against the court imposition that 25% of classes should be done in Spanish.
Education minister criticizes USTEC union
On Monday, the minister of education, Josep Gonzàlez-Cambray, criticized the USTEC teachers union for "not understanding" a new strike when negotiations are still open and parties are "about to sign an agreement."
The comments were made at a time when USTEC were the only union planning on taking part in the strike.
Speaking to public broadcaster TV3, he argued that the general public will not understand this protest, and said that the education system needs calmness.
Healthcare protests
The same dates will feature numerous other protests, as the Doctors of Catalonia union (Metges de Catalunya) have already announced industrial action for January 25 and 26, while the health branch of La Intersindical union will carry out their own demonstrations on January 24 and 25 – with both coinciding on January 25.
The reasons for both strikes are similar: workers are calling for more staff to be hired, better pay, and more investment into their facilities.
In unveiling their own demonstration, the Students Union made reference to the healthcare strikes and showed their solidarity with what they view as a parallel cause: "their fight against precariousness and low wages is also ours."