Metges de Catalunya doctors' union to strike on January 25 and 26
Medical professionals call for improvements to public health system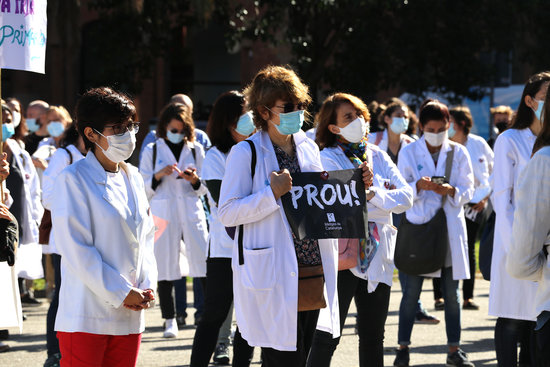 The Metges de Catalunya doctors' union has called a two-day strike in January to demand improvements to the public health system.
The strike is set to take place on January 25 and 26 unless the union and health authorities are able to reach an agreement beforehand. Metges de Catalunya warns, however, that industrial action could go on for more days if their demands are not met.
The union encourages doctors to take part in "a historic mobilization" against "unsustainable workloads, a lack of medical professionals, and precarious working conditions."
Catalan public health secretary Carmen Cabezas responded to news of the upcoming strike in an interview with Catalunya Ràdio on Monday morning by thanking them for their work and saying that doctors are "very responsible" and would "know what to do."
Metges de Catalunya members were in Parliament on November 17 to present lawmakers with over 50,000 signatures urging them to safeguard the public health system and to warn them of the effects of a continued lack of funding.
Catalan health minister Manel Balcells said that these were "fair" demands and expressed a willingness to increase wages and negotiate changes to their labor agreement, but his statements have, so far, been unsuccessful in convincing the union to call off industrial action.