Strict controls to enter and leave Igualada on first day of lockdown due to coronavirus
Only medical professionals and carriers delivering food or basic goods allowed in while situation at hospital "desperate"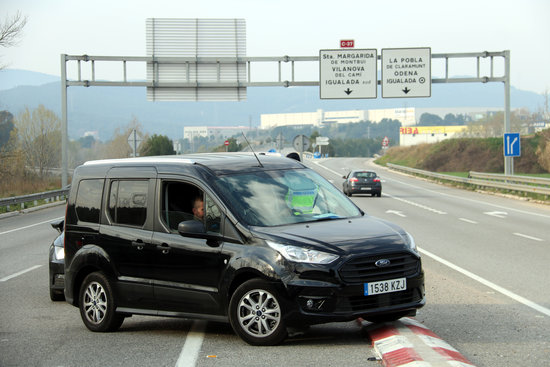 As of 00:00 on Friday, March 13, Mossos d'Esquadra police have been carrying out strict controls at Igualada's entry points.
This comes as part of the lockdown in Igualada and the surrounding towns of Vilanova del Camí, Santa Margarida de Montbui and Òdena announced by authorities Thursday evening as a means of containing a coronavirus cluster that has seen three deaths and 67 confirmed cases, of which 41 are medical professionals.
Police have been stopping and identifying all vehicles, one by one, and only allowing medical professionals as well as carriers delivering food or basic goods to enter the closed-off area.
There were still some cars attempting to leave on Friday morning, but most of them have been forced to turn back.
Situation at hospital "desperate"
In an interview with Catalunya Radio, Igualada mayor Marc Castells called the situation at his city's local hospital "desperate" and called on retired medical professionals, as well as those on vacation, to help out.
Castells had already asked nurses to come in to help earlier on Friday morning and explained that their arrival had helped the strained and exhausted staff.
The Igualada Hospital has been badly hit as most of those diagnosed in the cluster are either patients or staff, and another 200 medical professionals – that is to say, a fifth of the hospital's workers – are in isolation after having been in close contact with confirmed coronavirus cases.
The mayor has stated that he supports the measure, but understands that it may very well have serious economic consequences.