Speaker calls for defense of 'rights and freedoms' at WWII commemoration
Parliament president expresses "concerns" about ideas today reminiscent of Nazism at event honoring Catalan volunteers who died in the global conflict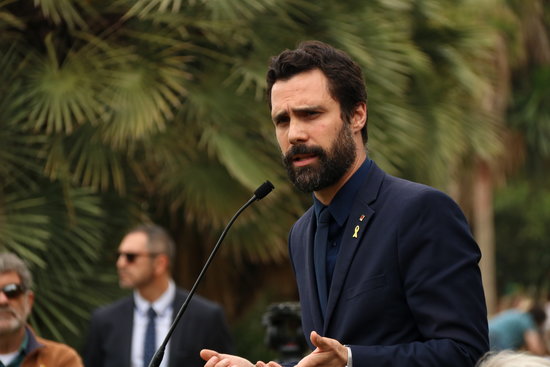 Catalan Parliament speaker Roger Torrent took part on Tuesday in an event to commemorate the 73rd anniversary of the end of the Second World War. During the event in Barcelona's Ciutadella park, flowers were placed at the monument to Catalan volunteers who died defending freedom. Accompanied by some survivors of the war, Torrent praised "the bravery of the men and women who fought against horror and inhumanity."
Also in his speech, Torrent expressed his "concern" about certain ideas in Europe today that are reminiscent of Nazism. "We see with concern the rise of certain ideas that challenge values, principles, rights and fundamental freedoms in Europe. And we cannot remain silent in the face of that," he said, adding it was everyone's responsibility to speak up for such rights and freedoms.
Torrent also said he particularly wanted to send a message to the "new generations" of Catalans, to "connect that fight [against Nazism] with that of today, to connect those generations with those of today," he said, with a group of schoolchildren present who were taking part in the event. The speaker also said that the commemoration was "an act of memory, of honor, of recognition of Parliament, the seat of the word, of dialogue."
One of the war survivors, Martí Bielsa, also said a few words, warning against "accursed wars" like World War Two or the Spanish Civil War, which he said are started by those who aim "to benefit and steal what does not belong to them, without caring about the cost, because it is others who have to pay the price for them," he said.