Solicitor general requests 25 years in jail for former president Pujol's eldest son
Representative of Spanish government avoids accusing ex-Catalan head of government in family corruption case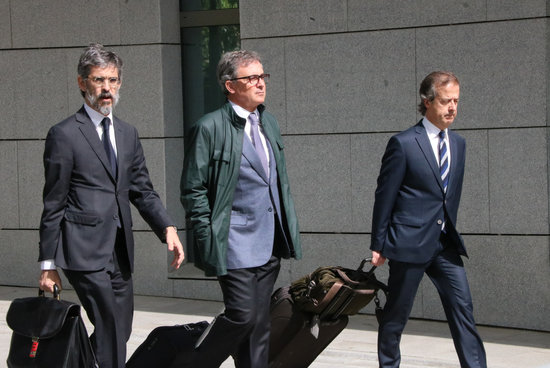 The solicitor general, representing the Spanish government, has requested a 25-year prison sentence for former Catalan president Jordi Pujol's eldest son, Jordi Pujol Ferrusola, accusing him of five tax crimes and requesting €7.7 million for civil liability.
His former wife – daughter-in-law of the ex-leader –, Mercè Gironès, has been asked for a 17-year conviction, while Josep Pujol Ferrusola, another son of the politician, will face a four and a half year sentence by the solicitor general.
Yet, neither the longest-serving Catalan head of government in modern times nor any other family member have been accused by this party for the corruption case ongoing since July 2014, when the former president admitted his family having money abroad not declared in Spain's tax office.
Spain's National Court indicted Pujol and his relatives in April, including his wife Marta Ferrusola and their seven children. Charges against Ferrusola were later dropped for health reasons.
The solicitor general is taking a more moderate stance compared to the public prosecutor, which in early May requested that former Catalan president serve a 9-year prison sentence for money laundering and unlawful assembly. Pujol's eldest son, Jordi Pujol Ferrusola, was required a 29-year sentence for forging documents, crimes against the tax office from 2007 to 2010 as well as in 2012, in addition to an attempted offense, organized crime, and money laundering.
The public prosecutor requested 17 years behind bars for Gironès, 14 for Josep Pujol Ferrusola and 8 for each his remaining siblings: Pere, Oleguer, Oriol, Mireia, and Marta.
Family "took advantage" of Pujol's position
In July 2020, the judge who led the investigation in Spain's National Court, José de la Mata, said he believed the family formed a criminal organization and, in a 509-page document, concluded that there was no solid evidence to prove that the Pujols' wealth came from inheriting the grandfather and banker Florenci Pujol's fortune, as the former politician had originally claimed in July 2014.
The April 20 indictment stated the family had behaved as an illicit association or criminal organization due to their coordinated actions including simultaneously opening and closing bank accounts abroad as well as transferring funds between them in a strategy aimed at concealing the origin of the funds.
The court said that the family "took advantage of Pujol's position at the head of the Catalan government from which they obtained significant economic returns, which were deposited in bank accounts abroad and subjected to various transfers and transmissions, to hide their illicit origin."
Tainted political legacy
Jordi Pujol, aged 90, was the longest-serving president in Catalonia's democratic history, but his mammoth political legacy was tainted by subsequent corruption scandals.
First appointed president in 1980, Pujol was reelected in five consecutive elections and ruled uninterrupted until 2003, leading Catalonia from Spain's democratic transition to the new millennium.
Pujol was also the founder of Convergència Democràtica de Catalunya (CDC), for years Catalonia's hegemonic center-right party, until corruption scandals and tensions caused by the independence bid led to its dissolution, with its offspring dispersed between Junts per Catalunya and PDeCAT parties, among others.